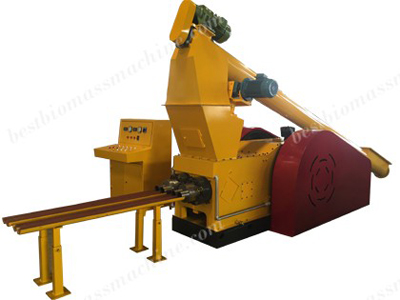 GC-MBP-2000 double heads Multi-functional Mechanical Briquetting Press
Molded briquettes:18-70mm solid briquette with any length.
Capacity:Double-end:1.2-1.5T/H(different materials have different yields.)
Applicable raw materials:biomass raw materials like: crop straws, barks, twigs, firewood, rice husks, sawdust, and furniture factory dust.
Frequently-used molds:18mm, 30mm, 50mm, 70mm.
Moisture content requirement:under 20%.
This is a new Briquetting Press for processing biomass materials.
Details of Punching Briquetting Machine


Multi-functional Mechanical Briquetting Press Parameters
Main structure
One control cabinet
Main motor power
Yield
Energy consumption
Feeding speed control
External dimension
Product density
Die service life
Equipment weight
One set of dosing tank mechanism
One main motor
One lubricating oil pump station
One control cabinet

Power supply:380V 50Hz

Environmental temperature:-15— +40OC

55 KW
Double-end:
1.2-1.5T/H
About 35 kilowatt hour/T
Frequency conversion
3300*1500*1460
Product density
300-600T
(different materials have different die service lives)
8000kg
Material and Finished Briquettes

by Briquetting Press to


Multi-functional Mechanical Briquetting Press Light Spot
1. The double heads multi-functional mechanical briquetting press has higher yield than the same kind of equipment.
2. The density is large and the briquetting ratio is high. The discharging size is 18-70mm and the market range is large.
3. The multi-functional mechanical briquetting press adopts the forced lubricating and cooling system, so you won't need to lubricate every 2 hours. The lubricating oil is used circularly and the lubricating cost is low.
4. The punch straightly aligns the discharging holes of the discharging mode to squeeze the materials into briquettes which reduces the idle work and the energy consumption is low, the production is high, the production cost is low, too.
5. The punching type changes the discharging mode and puncher pin easily and conveniently. The discharging mode adopts alloy steel and the puncher pin adopts hard metal materials, so the life span is long and the cost is low.
6. All the rolling bearings of the feeding system are separated from the raw materials to avoid the dust go into the rolling bearing.
Why choose ABC Machinery Multi-functional Mechanical Briquetting Press?
ABC Machinery has been in the biomass energy industry for over ten years, and we devoted ourselves to the new energy equipment: the research and development of pellet mill, briquette machine. Our pellet mills and briquette machine have sold to all over the world. This double-end multi-functional mechanical briquetting press is developed based on the original products. Both of the briquette machine have different emphases, which can meet different requirements of the users.
Do you want to join the new energy industry? Contact us, we will design the best project for you!