What is Punching Briquetting Machine?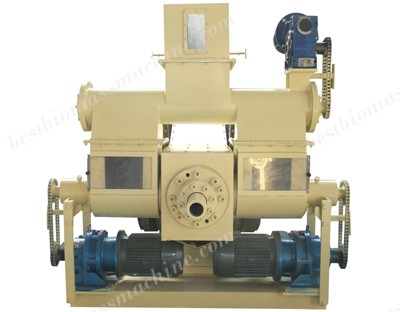 The punching briquetting machine is one type of biomass briquette machines, which can produce different sizes of cylindrical biomass briquettes. Compared with screw briquette machine, punching briquetting press adopts the working principle of mechanical stamping, which gives great pressure to the raw materials and helps to shape high-density briquettes.
Our company introduces foreign technology to design, improves and produces the high-quality punching briquette press. It is pelleting and briquetting all-in-one machine. To produce both biomass pellets and briquettes, it only needs to change the extrusion mold.
Details of Punching Briquetting Machine


Punching Briquetting Press Parameter
Main Parts
Specifications
Capacity
Density
Main engine power
Weight
Dimensions
Operator
Area

Briquette machine,

Feeder,

Electric control cabinet

Diameter 8mm-22mm pellets
Diameter 30-70mm briquettes
0.8-1.2 t/h
1000-1300kg/m3
45KW
7000kg
Main engine 3.4mX2mX1.8m
Electric control cabinet 1.2mX0.6mX1.2m
2
About 80 square meters
The yield relates to different moulds:
Mould (Pore Size)
8mm
10mm
22mm
30mm
70mm
Hole Number
61
37
7
4
1
Capacity (kg)
950
900
820
880
1200
Raw material is sawdust with moisture15%.
Atlas of the finished product pellets and briquettes


Advantages of Punching Briquetting Machine
Punching briquette machine can produce not only biomass briquettes but also pellets.
The raw materials are forced into punching briquetting machine, which can be regarded as a prepressing to the materials, and the pre-pressed materials will be pressed by the punching briquette machine again. So after the above process, the products have even high density.
Our company is the only one to produce punching briquette press saving energy up to 50% in our country.
The machinery oil heat exchange system, dusty system, and air cooling system guarantee the punching briquette machine to work continuously.
Briquettes or pellets produced by punching briquette machine have the highest density, lowest production costs.
Punching briquetting machine can produce various kinds of biomass materials, like hardwood, barks, wood sawdust, straw, peanut shells, rice hulls, wood waste and forest residues, etc. The end products have many uses, for example, they can be used in heating, cooking, industrial boiler, industrial power generation, etc.

ABC Machinery company has years of experience in mechanical and electrical equipment manufacturing, and has an experienced, highly educated professional r&d team. It is the largest, the most professional new energy and energy saving equipment manufacturing company with complete equipments in China.