What is Flat Die Pellet Plant?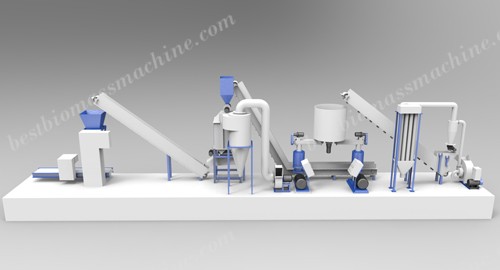 Flat Die Pellet Plant Design Drawing
Flat die pellet plant is different from ring die pellet plant, it is a small or medium scale production line
(the yield with

one pellet mill is under 500kg/h

, you can combine several pellet machines to improve the production)
that is usually used by small or medium scale factory, farm, and so on. If you are the beginner, you can choose flat die pellet plant to start your own business for it is easy to operate and has less investment than ring die pellet plant.
Flat die pellet plant is composed of several devices, crusher/hammer mill, dryer, flat die pellet machine, packager, etc. But not all pellet production lines must be equipped with the above devices, if the flat die pellet plant is used in the small farm, the user usually will remove the part of packaging. The specification should be decided according to the actual situation. The main device of the small pellet plant is flat die pellet machine, and it decides the yield of the complete production line. Those machines are involved in different steps. Due to the simple structure, it is easy to maintain flat die pellet plant.
Mobile Small Pellet Plant for Sale
We also have
mobile small pellet plant
for sale, and it is a whole set of pellet mill plant, which is movable and has small volume. It is convenient for the users to move the mobile pellet plant anywhere they want. The mobile small pellet plant includes the following main equipments::flat die pellet mill, hammer mill, mixing feeder, cooling conveyor, electic cabinet, screw feeder, vibrating screen, etc.
Characteristics of Mobile Small Pellet Plant:
All equipments are in the same operation platform, which reduces the occupying space, and is convenient for the whole set of device to move.
Easy to operate. That means one person can finish this operation, which saves manpower and reduces the labor costs.
This mobile small pellet plant is suitable for small scale pellet production, bringing benefits to the users.
The pellet plant adopts special materials, which prolongs the service life of it. That is to say the cost performance is relatively high.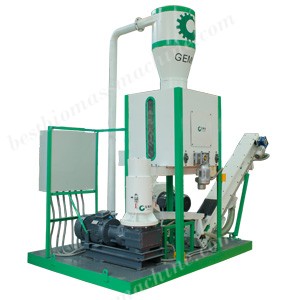 Key Equipment of Flat Die Pellet Plant - Flat Die Pellet Mill
Model
Power(kw)
Output(kg/h)
Weight(kg)
Packing Size(mm)
ZLSP-R 300B
3phase 22
250-350
540/575
1350*750*1400
ZLSP-R 400B
3phase 30
350-450
770/810
1400*800*1450
ZLSP-R 420B
3phase 37
400-600
1100/1200
1630*620*1400
ZLSP-R 550B
3phase 55
500-800
1770
2300x750x1850
Why Do You Choose ABC Machinery Flat Die Pellet Plant?
ABC Machinery adopts special materials to produce flat die pellet plant, so it is durable. And it has a small volume, which takes up a small place. Besides, flat die pellet plant is portable and convenient. It is a good choice for you if you decide to invest at a low budget. ABC Machinery will offer you the turn-key solutions to solve all your problems. What's more, the quality of flat die pellet plant is guaranteed. If you have any problems, you can put them to our technicians at any time, and we will answer you at sight.
ABC Machinery will design the best complete pellet production line for you with the lowest cost and help you to earn the largest profit.