What is Ring Die Pellet Plant?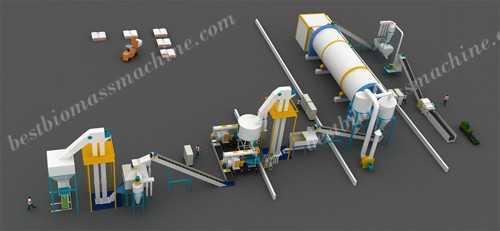 Ring Die Pellet Plant Design Drawing
Ring die pellet plant is the complete equipment for large pellet production. It is the ideal choice for the one who want to produce biomass pellets in a large scale for ring die pellet plant is the production line that can generate raw materials continuously.
The productive process is generally wood splitting, crushing, drying, pelletizing, cooling & sieving, packing. And each step is matched with the corresponding device. For example, wood splitter, crusher/hammer mill, dryer, pellet machine, cooler, packager, etc.
The yield of ring die pellet plant can reach 20t/h if you combine several ring die pellet machines. ABC Machinery will supply you with the turn-key solutions, so you don't need to be worried about how to set up the whole large pellet plant and we will help you to set up the complete production line with the lowest investment.
The equipment adopts special materials, which greatly reduces maintenance frequency, bringing you the largest profits.
Large Pellet Production Line with 15sets Ring Die Pellet Mchines in Vietnam
Advantages of ABC Machinery – Large Pellet Plant
ABC Machinery can set up different production lines for our clients according to the raw materials and financial conditions, etc.
The ring die pellet plant can combine several ring die pellet mills realizing the extra large scale production.
ABC Machinery has different degree of automatic production line which is set up according to the labor and cost situations.
We supply one-stop service with turn-key project.
ABC Machinery adopts special materials to produce the machines with low noisy, stable running, long service life and beautiful appearance.
Model
Capacity (kg/h)
Sawdust/Stalks
Main Motor (kw)
Feeding Motor (kw)
Forced-feeding
Motor (kw)
Dimension (mm)
Weight (kg)
BPM35
500-800
30*2
0.75
0.75
2150*1950*1900
2200
BPM420
1200-1500/1500-2000
90
1.5
3
2600*1000*2000
3400
BPM508
1500-1800/2000-2500
110
1.5
3
2990*1200*2410
4500
Why Do You Choose ABC Machinery Ring Die Pellet Plant?
ABC Machinery is a qualified company with many years of experience, who owns 8 patents and CE and ISO9000 certification. Most importantly, ABC Machinery has its own ring die factory. We all know that, ring die is very vital to the ring die pellet machine , and ring die pellet mill is significant to the ring die pellet plant. We can guarantee the quality of ring die, that means, we can make sure the whole production plant to produce pellets with the least number of faults. Our products are sold to more than 50 countries like Europe, Asia, America, Africa, etc and our products get great feedback. You can order our ring die pellet plant at ease.