Wood Chipper Machine
Wood chipper machine plays an irreplaceable role in the
complete pellet production line
that takes wood log, weed tree, etc as raw materials.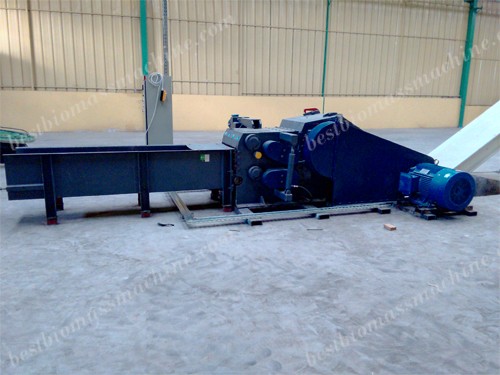 Processing Materials:
Undersized log, timer residues (branch, twigs,etc), wood processing residues (batten, slab, wood core, fishtail veneer, etc) and wood, etc.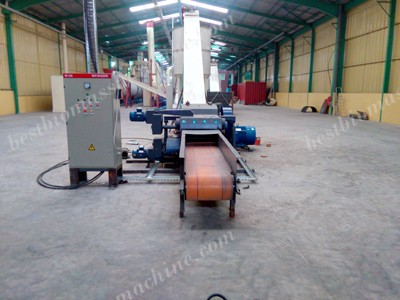 Wood Chipper Machine Front in Pellet Production Line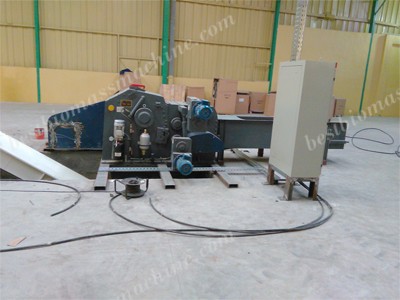 Wood Chipper Side connectted with Hoister and Hammer Mill
Components of The Wood Chipping Machine:
Knife-cylinder assembly
Upper feeding roll
Lower feeding roll
Transport assembly
Hydraulic system
Electric control system
Technology Parameters of Wood Chipping Machine
Wood Chipping Machine BX216
Wood Chipping Machine BX-315N
Knife-cylinder diameter(mm)
650mm
Main power
Diesel engine 54HP
Fly cutter amount(slice)
2
Electrical control cabinet
standard type two step-down start
Feed inlet size(height×width)
240×540mm
In feeding
4m conveyor belt
Knife-cylinder speed(rpm)
590
Out feeding
10m pattern conveyor belt
Feeding speed(m/min)
38
Number of cut blades
fly blades 2pcs,bottom blade 1pcs,Reserve cut blade 1pcs
Max diameter of materials(mm)
200
Rotor speed
595 rpm
Chip length(mm)
15-30
Infeeding open
400*170mm
Production ability(actual cubic meter/h)
10-12
Speed of infeeding
38m/minute
Main motor power(kw)
55(Fulin,Shandong province)
Dimension of chips
Length 20-30mm,Width 25-35mm,Thickness 3-8mm
feeding roll motor power(kw)
3×1 4×1
Capacity
3-6 ton per hour
weight(t)
4.07
Weight
3600KG
Dimension(length×width×height)(mm)
1980×1950×1250
Characteristics of The Chipping Machine:
The wood chipper has the advantages of compact structure, easy to operate, high production rate, wide raw material ranges, safety and reliability. It is convenient to maintain the chipper. And the chips from the wood chipping machine have high quality. The wood chipper is a more advanced drum chipper in our country at present.