Fuel Briquette Machine Brings You Large Profits
Fuel briquette machine
is the one that we called biomass fuel briquette machine or biofuel briquette machine, it makes the biomass raw materials into briquette fuels by the method of high pressure and high temperature. After the special dealing method, the density, components, shapes and other aspects of the biomass raw materials have great changes, under the function of fuel briquette machine, it brings a lot of profits to people.

Why do we say fuel briquette machine give people huge profits?
There are some reasons for you:
Fuel briquette machine has a reasonable price. If you purchase one for yourself, you will find the harvest is much more than that you invested. The briquette machine can work for long time, so the yield is high. The quick-wear parts are durable which reduces the user's investments.
Biofuel briquette machine can work in the briquette production line. The large scale briquette production happens in the briquette making plant, the owner can gain huge profit by selling the briquette fuels.
Biomass fuel briquette machine brings not only the capital profits, but also the intangible profits. We all know that the traditional fuels will pollute the environment, and our health is related to the environment closely. So by using the biomass briquettes produced by biofuel briquette machine, our environment will be improved, and our health will gain huge profits.
Fuel Briquette Advantages:
Price. Compared with the traditional fuels, fuel briquette price is reasonable, and the price is in the tolerance interval of users, and yon won't need to worry about that.
Burning efficiency. If the briquette fuels are burnt in the specialized stove, the burning efficiency will be higher, that can be more than 85% even 93%. The decomposition rate in the specialized stove is higher than the forest, and that is benefit for the forest development.
Making biofuel briquettes is not so difficult, if you want to start your own business, we can help you to build your own briquette machine plant and teach you the fuel briquette making skills.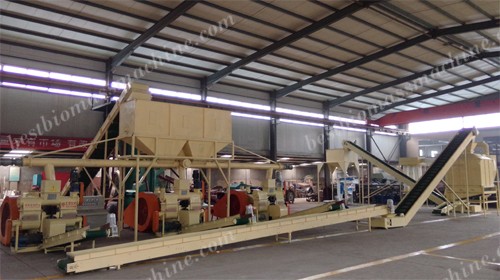 (
making fuel briquette machine line for you!
)
At present, the application of fuel briquette machine is not so high. Because people are used to use the traditional fuels, and they don't understand the function of biomass briquettes. Sometimes, people just hear about fuel briquette machine, while some people even don't know the exit of fuel briquette machine or biomass fuel briquette machine. In some western developed countries, the fuel briquette machinery is widely used, like small farm, power station, etc. But the overall degree of application is not so high. We should let more people to know the biomass briquette machine and use the biomass briquettes. Let us make some contributions to our only world!