GC-MBP-2000 Briquette Press Machine for Sale
Briquette press machine is a new type of energy machinery, which is used to "turn wastes into wealth" --- it processes all kinds of agricultural and forest wastes into a kind of environmental and clean energy.
Briquette press machine has many types, but there are two types of briquette press machines that are very popular in the market: punching briquette machine (mechanical stamping briquette machine), screw briquette press machine. Those two types of machines are also the top-selling products in the briquette machines of ABC Machinery. Recently, we have researched and developed a new type of punching briquette machine: GC-MBP-2000 briquette press machine. Compared with the old types, each part of this type of machine has been improved.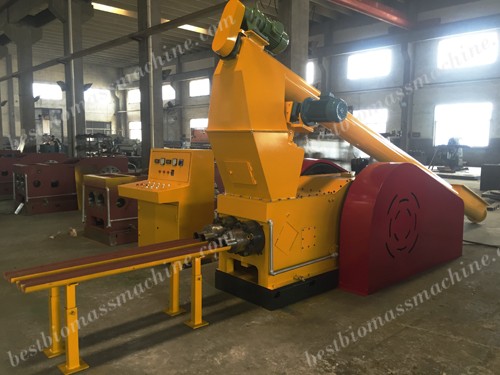 Punching briquette machine: GC-MBP-2000 is the new type briquette press machine that we recently researched. It has a higher performance than other types of briquette machines. The parameters of GC-MBP-2000 are presented in the below chart:
| Main motor power | Capability | Moisture content | Product density | Feeding speed | weight | External dimension |
| --- | --- | --- | --- | --- | --- | --- |
| 55 KW | Double-end:1.2-1.5T/H, different materials have different yields. | Under 20% | 0.8-1.2 | Frequency conversion | 8T | 3300*1500*1460 |
Moulds Parameter:
Species(Diamete)
18mm
30mm
50mm
70mm
Service Life
300-600T
Main Structure
:
one set of dosing tank mechanism
one main motor
one lubricating oil pump station
one control cabinet
Energy Consumption
:
Working Conditions
:
Power supply:380V 50Hz environmental temperature:-15— +40OC
We can see from the chart that this kind of briquette machine has two double-end, which greatly speed up the briquettes discharging and increases the capability. Though its briquettes production rate rises, its energy consumption doesn't increase. That realizes the goal of high production & energy saving.
According to the different production demand, ABC Machinery will customize proper briquette machines for clients. No matter the single machine or complete briquetting plant, we will show the best quality and give the best briquette press machine to our clients.
We have different distribution channels: phone, E-mail, online sales, etc. If you are interested in our products, contact with us, we will give you the one hundred percent of sincerity.