GC-MBP1000 Fuel Briquette Press Delivered to Philippine
Recently, a Philippine customer has purchased one set of our
GC-MBP1000 fuel briquette press
. With the communication with him, we got to know that his raw materials including grasses and rice husk. And he want to produce the pellet with diameter in 20mm, we recommended him our featured GC-MBP1000 fuel briquette press which meets his requirement well, and obtaining his great satisfaction. Soon afterwards,
he purchased four sets of our GC-MBP1000 fuel briquetting press again for expanding his production.
Highly Efficient Fuel Briquette Press for Sale
In working principle,
GC-MBP1000 fuel briquette press is our mechanic punching type briquette press
, adopting mechanical stamping give great pressure to the raw materials and helps the loose raw materials to formed high-density briquettes. With this punching fuel briquetting press,
you can not only make pellet with the diameter ranging 8mm-22mm, but also process briquettes with 30-70mm diameter.
GC-MBP1000 Fuel Briquette Press Technical Parameter
Model
Specifications
Capacity
Density
Main engine power
Weight
Dimensions
Operator
Area

GC-MBP1000 Fuel Briquette Press

Diameter 8mm-22mm pellets
Diameter 30-70mm briquettes
0.8-1.2 t/h
1000-1300kg/m3
45KW
7000kg
Main engine 3.4mX2mX1.8m
Electric control cabinet 1.2mX0.6mX1.2m
2
About 80 square meters
Final Briquettes/Pellets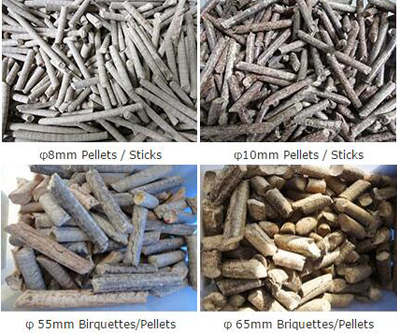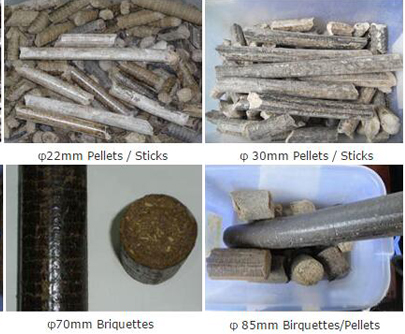 As one type machine for producing green resources fuel, fuel briquetting press mainly process wastes and residues into useful fuel briquette. All these following materials are suitable for making fuel briquettes.
Agro wastes like bagasse, alfalfa, coconut shell, coffee shell, cummin waste, wheat straw, cotton stalk, rice husk, corn rob, corn straw, sorghum stalk, cottonseed hull etc;
Forestry residues like wood logs, sawdust, shaving and chips, branches, small piece of wood from the wood processing, bamboo dust and bamboo shavings, weed tree, palm fiber, wood sticks etc;
Barn wastes like horse manure, sheep manure, cow dung, cattle dung, hinny manure etc;
Some living wastes like waste paper, cardboard, newspapers etc.
Fuel Briquette Press Used in Plant
Except of GC-MBP1000 fuel briquetting press, our Philippine customer has also purchased our related equipments including drum chipper and rotary dryer for better production.
How to Successfully Produce Fuel Briquette?
Although you have understand these equipments and general processing, producing fuel briquette successfully is not so easy, you need to master some skills.
Enough raw materials. Whether you produce the fuel briquette for self-use or for sale, enough amount of raw materials is the basics. You can cooperate with the wood processing factory, crop farms, animal farms etc to make sure the raw materials supply.
High quality equipment. Choosing a reliable and professional fuel briquette press manufacturer, which can not only offer you the high quality machinery and professional production solution, but also provide you with the all-sided service of pre-sales, on-sale and after-sale.
Operating staff. The labors for operating the machinery affects the whole production greatly. If you make fuel briquettes for self-use, you had better master the operation instruction; if you make briquette for sale, the labors with high operating ability and staidness has better be hired.
We have been devoted to fuel briquette press manufacturing for over-ten years, getting great satisfaction of customers from all over the world. If you have interest in our machinery, please contact us for more information.