Pellet Mill Importer—The European Pellet Mill Market
The usage amount of biomass pellet is increasing rapidly, and as a kind of burgeoning energy machinery the acceptable level of pellet mill becomes higher and higher. The usage for pellet mill is broader and broader as well. Pellet mill gradually goes into people's life. Besides, more and more countries start to use pellet mill to produce environmental fuels, pellet feed, etc. The requirement for pellet mill is rising, and the requirement for pellet mill quality is higher. Many people choose pellet mill import in order to meet their own pellet production requirement.
Pellet mill import trend is gradually shaped, many countries hold the opportunity to produce all kinds of pellet mills to meet the different requirements of different clients from different countries. The following chart gives an evidence that the major wood pellet market in Europe countries. For Europe is a big pellet producer and pellet consumer.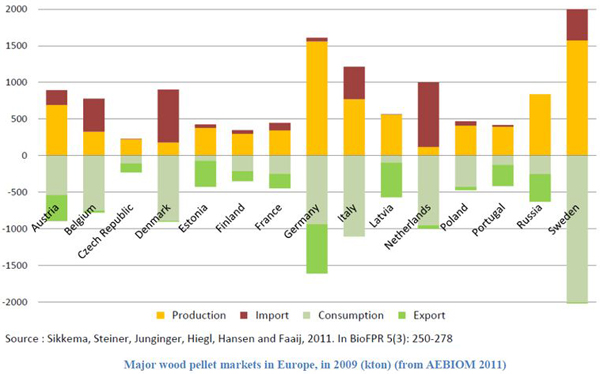 According to the chart, we can see that Sweden and Germany are two big wood pellet producers and consumers. Sweden produces wood pellets mainly for self-use while Germany export part of them. Denmark and Netherlands are two important pellet importers. Russia is a great pellet producer. Italy imports and produces pellets for its own use.
All in all, we can find that if the country has a large amount of wood pellet production, they would need to use a large amount of pellet mills to produce pellets. So the pellet mill import is necessary, which is a great opportunity for the pellet mill exporter, they can produce pellet mills which are suitable for the local pellet production conditions and meet the local production requirements.
There are several companies that are famous in the world. For example:
CPM is the largest pellet mill manufacturer in the world which is located in Europe with a long history. Its pellet mill has a leading position in the world;
LM Machinery & Equipment LLC is the exclusive pellet mill supplier of north America, it is located in Italy. High performance, high quality and high stability make the company popular;
ABC Machinery who owns two brands, GEMCO and KMEC. More than ten years of experience makes its productions cross different continents in the world and it has established a great many large projects in different countries gaining a good reputation.
The above companies all have their own advantages that can appeal to the costumers, no matter from the aspect of quality or the reputation. Then as a Chinese
pellet mill exporter
, how do ABC Machinery attract the pellet mill importers from different countries?
Of course we have our own highlights:
We can produce pellet mill with high stability;
We can customize pellet mill according to the clients' needs;
We have high quality of after sale service;
Mostly important, we have a reasonable price compared with the above companies.
Once we meet the requirement of the pellet mill importers, and give our one hundred percent of sincerity to them, we will sell our pellet mill to them successfully.