Reliable Wood Pelleting Plant for Green Fuel
Raw Materials for Wood Pelleting Plant
Wood pelleting plant
is a series of equipment connected that
using raw materials to produce biomass solid wood pellet
. As a newly created renewable fuel, wood pellet has been accepted by majority countries among the world with it high combustion efficiency, low ashes, and no harmful gas produced. Why? It is all thanks to its raw materials, here lists the common raw materials.

(biomass solid wood pellet made by wood pelleting plant)
Wood log is a green and clean raw material for producing wood pellet which is usually used for making wood pellet. The wood log here includes several types, such as, branch, barks, sawdust, wood chips and wood residues. All these raw materials are by-product in wood factory, can be made into wood pellet directly. And other places also exist these kind of raw materials, such as, twigs left in the forestry, both sides of the road after cutting and in the park.

Besides, crop waste is also a useful raw materials for making pellet as well, such as, rice husk, rice stalk, corn straw, bagasee, sorghum straw etc which are left in the field after harvest. Burning these crop residues directly can result the serious environment problem, which is not suggested these years. So, making hem into pellet is a good choice.
Main Related Equipment Info of Wood Pelleting Plant
The
complete wood pelleting plant
consists of
raw material pre-treatment
(including
crushing
and
drying
),
pelleting processing
,
cooling and screening processing
,
packing and weighing processing
and the conveying equipments. But due to different applications, requirements and actual situations of clients, the production processing is not the same, which results different related equipments.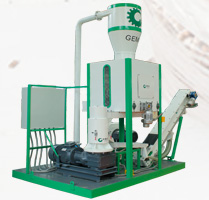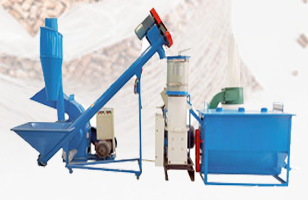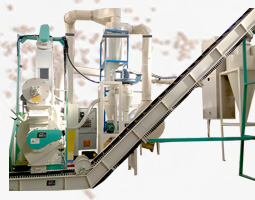 Generally speaking,
we have three types of wood pelleting plant, respectively are small wood pelleting plant, large wood pelleting plant and mobile pelleting plant
.
For our small pelleting plant, the equipped related machines are with small size, simple structure to save the cost. The main equipment includes crusher, conveyor, dryer, small pellet mill, cooler. Among them, the driven power of pellet mill can be chose according the actual situation, we have equipped four kinds of driven powers, electric, diesel, gasoline or PTO.
Our large pelleting plant is mainly designed and manufactured with higher automation for industrial use. The main equipments are wood chipper (optional), hammer mill, dryer, pelleting machine, pellet cooler, screener and packing machine. For meeting larger production, the pellet mill is equipped with ring die pellet mill. And if you want a higher production, you can connect two more pellet machines in your wood pelleting plant.
The mobile pellet plant is a new product researched and manufactured by us. Differ from the wood pellet plant mentioned above, it can move with the entire plant to anywhere you want due to its more compact structure. Although it is mobile, the equipment are not lack, mainly including hammer mill, cyclone separator, pellet machine, storage bin, vibrating screen, conveyor and electric control system.
Superiorities of Our Wood Pelleting Plant
All the equipments configured in wood pellet plant fully meeting the CE standard operation criteria, are strictly picky by us with reliable quality and long service time.
The key equipment, wood pellet machine, is designed with the most proper die hole structure for pelleting wood, which is obtained from a large of experiments, called best compression ratio of die hole.
If you have no idea that the raw material can be into wood pellet or not, we can offer you raw material test freely and customize you the unique wood pelleting plant according to your requirements and actual situations, bringing you the best pellet quality.
We can provide you the rational wood pelleting production with less operator required, controlled by PLC, thus reducing the labor cost.
Our wood pelleting plant has a wide applications, such as, crop farm, wood pellet factory, green fuel production, industrial boiler, electricity generation factory etc.
If you have enough raw materials or have interest in our wood pelleting plant, please send your requirement to us for more professional advice.