Sawdust Briquette Maker Making Wood & Saw Dust Briquettes/Stick
What is Sawdust Briquette Maker?
Sawdust briquette maker
makes wasted biomass raw materials into burnable briquettes/sticks, such as, sawdust, wood block, twigs, straw, fruit shells etc through recycling, utilizing and pressing
. According to working principle and finished product performance,
sawdust briquette maker is divided into two types
:
one is for raw materials like wood chips etc. Under the effect of screw propeller and heating ring, high heated and high pressed area is formed to process the incompact raw materials into hollow briquette/stick which is able to replace fuel wood and coal for high density, small volume, good combustion. The general product outer diameter is 50-60mm, hole diameter is 15-20mm, with the shape of quadrangular prism and hexagonal column.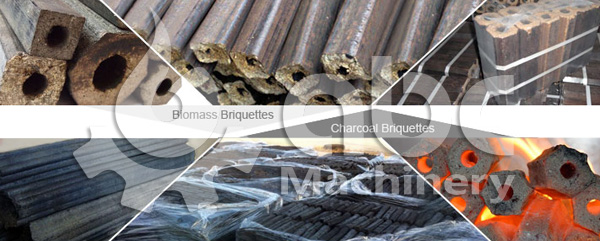 The other one is for the raw material is formed into solid briquettes through piston stamping under high temperature and press. This product is produced with small volume, high density and long combustion time. The general diameter is 8-90mm, which can be decided by yourself, with the shape of cylinder.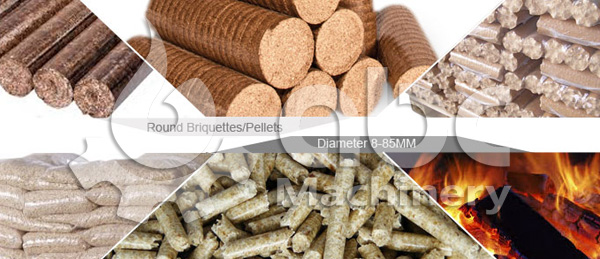 Final Briquettes/Stick Produced by Sawdust Briquette Maker
By sawdust briquette maker, the finished briquette combustion value is enhanced more than one dozen times in unit area, and the heat production and refined resistance equals to or is higher than coal, is the superior coal substitution. Beside the finished briquette can be widely used for home heating, industrial power generation, small boiler etc, easy to store and transport for its uniform shape.
Sawdust Briquette Maker Classification
Screw briquette maker
is
also called charcoal briquette machine, screw sawdust briquette maker is the main equipment for making machinery charcoal
. It can produce the particles residues like bamboo, wood, fruit shell, straw (except rice stalk, wheat stalk ) etc with moisture content less-than 12% into solid hollow briquettes without adding any binder through the processing of high temperature and press.
Punching briquette maker
is
called biomass pellet briquette making machine
, belonging to the field of biomass solid fuel, biomass briquette making equipment, is one advanced biomass all-in-one machine for making both of pellet and briquette. This type adopts horizontal crank-link mechanism punching principle, with the machine body adopting high-strength steel plate welding, the inner connection pedestal formed in one, unique main shaft sealing device avoiding oil leakage, and unique punch dedusting cooling device greatly increasing running time.