Screw Extruder Briquetting Machine for Charcoal Briquettes
Screw extruder briquetting machine is one type of briquette making machines, it can be also called charcoal extruder briquette machine. The composed parts of screw extruder briquetting machine are heating section, forming hopper, lubricating system and auto cutting system. We all know that biomass briquettes are formed under high temperature and pressure, the lignin in the wood plays the part of binders, it will be softened under high temperature and bind the raw materials together shaping briquettes.

The following is the parameters of one type of screw extruder briquetting machine, GCBC-I biomass briquetting machine, which is to help you know more specifications about briquette machine.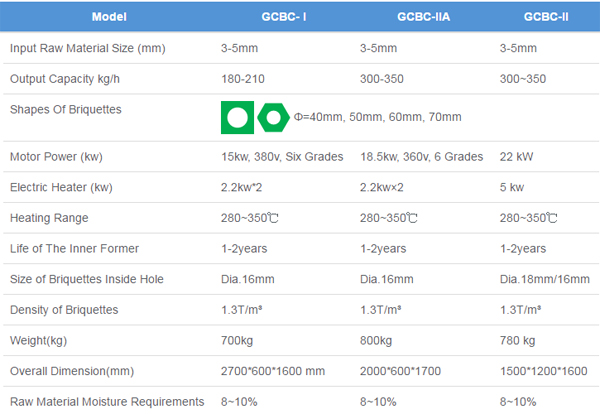 Screw extruder briquetting machine can produce many types of charcoal briquettes like quadrangular and hexagon briquettes with the diameters of 40mm, 50mm, 60mm, 70mm, etc. those briquettes have a same character, that is there is a hole in the middle of the briquettes to improve the carbonization. These charcoal briquettes with different diameters give various choices for the users, so it is very popular in the briquette machine market. The clients can produce different products according to their own requirements.

The usages and features of ABC Machinery screw briquette machine: the end products quality of charcoal extruder briquette machine are guaranteed, the combustion rate is very high, the ash content after burning the charcoal briquettes is relatively low, which is suitable for the environmental protection goals.
The feedback from our clients is very good, our company will go on researching and developing higher efficiency and energy saving briquette machines to try to meet different customers' needs.