Screw Press Briquette Machine on Hot Sale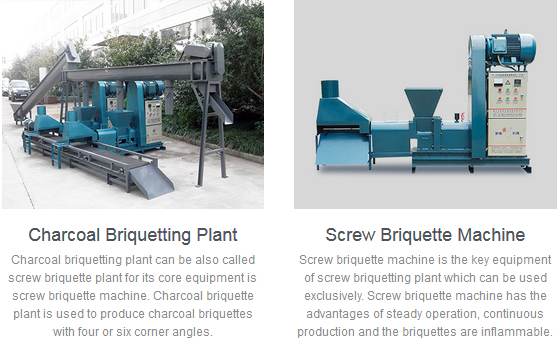 Screw press briquette machine is one kind of briquette machine, it is also called
charcoal briquette machine
, for the briquettes produced by it can be put into the kiln for charring, then the briquettes will become charcoal. The screw press briquette machine can process many kinds of biomass raw materials, like wood, sawdust, peanut shells, palm kernel shells, stalks, rice husk, etc. The raw materials of screw briquette machine have wide range, and they have the same characteristic, that is renewable. Screw briquette machine has the mold to form the raw materials into briquettes, and there is certain high temperature and pressure that are put on the materials, which can help the raw materials to be formed better.
How to Operate The Screw Press Briquette Machine
Screw press briquette machine has some operation steps that helps the users to produce briquettes easily. Then how to operate the screw briquette machine? Firstly, you should open the machine for preheating until the machine temperature gets to the required temperature. Then you can put the raw materials into the screw briquette machine. There are two important parts that are screw propeller and mold. When the materials get into the machine chamber, the propeller will push the raw materials forward to the mold. Under the high temperature and pressure, the raw materials are formed into briquettes, then they are discharged from the outlet. After you finish the briquette production, you should keep the screw press briquette machine running for a while, so that the materials in the machine can be discharged clearly.

After the briquettes are produced, if you want to get a higher level fuel, you can use the kiln to reprocess the briquettes and turn them into charcoals. The charcoal has higher combustion value than the briquettes, and they can be used to barbecue. The food above the charcoal won't be polluted, and burning the charcoal meets the requirement of the environment protection.
What is The Advantages of Screw Press Briquette Machine
1. It can turn the waste materials into useful energy.
2. It is easy to operate and maintain.
3. It is energy saving.
4. The yield of the screw briquette machine is large.
5. The machine is durable and the service life time is long.
Buy Screw Press Briquette Machine from ABC Machinery
ABC Machinery is a foreign trade company with more than 10 years of history, the manufacturing technology of screw press briquette machine is mature, we have professional team to design the machine or plant. Each detail will be considered well and that will reduce a lot of problems for the customers. Our after sale service is as good as well, the problems will be solved when you give them to our after sale service center. We have ISO9001 and CE certificates which indicate that our machine quality and the operating safety are guaranteed. You can trust us totally. Welcome to visit our company and hope we have a good cooperation relationship in the future!