Set Up Charcoal Briquette Making Machine Line in Serbia
These days, the charcoal briquette making machine line has been finished setting up in Serbia.
When the project is finished, our engineer and projects manager who were in the site tested the machinery with the customer, the finished product is beautiful with smooth surface and the best density, getting the high praise from the customer.

Based on the actual condition and the customer's requirements, we designed two big process including the briquette production line and carbonization line. And for the briquetting line, we equipped the machinery including crushing, drying system, feeding system and briquetting system, while the carbonization line includes the machinery of carbide furnace, cooling system and air circulation system.
Equipments for the Charcoal Briquette Making Machine Line

This process is designed for pressing the raw materials into solid briquette used for later process. Due to the strict requirement for raw materials of the
charcoal making machine
in the moisture content and size, we equipped the crushing machine, drying furnace and connection pipes, to adjust the size and moisture content to the suitable range.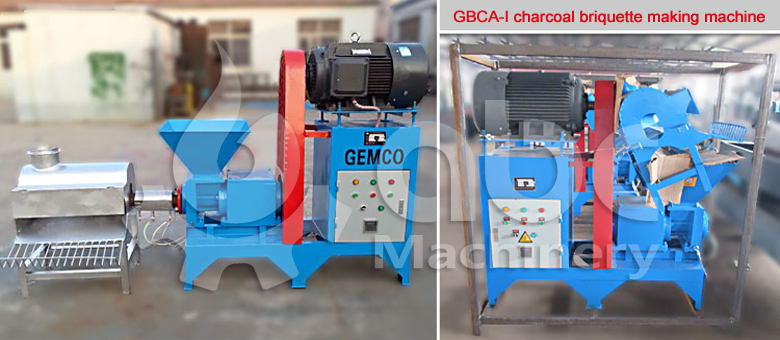 For the core equipment in this process, we equipped the GBCA-I series screw type briquette machine which adopts the screw propeller to push materials forward to form into solid briquette, also called screw charcoal making machine. The finished briquette is in the shape of cylindrical or hollow center shape, and the surface of the briquette will has carbonized phenomenon, which makes the later carbonization process easier.

In this process, the main equipments used includes carbonization furnace, cooling system, air circulation system, charcoal briquette crushing machine, carbon press and coal briquette press.

(
Carbonization Furnace
)
According to the equipments of the customer, we equipped the carbonization furnace in this charcoal briquette making machine line. When the finished briquette from the charcoal making machine enter the carbonization furnace. With the effect of high temperatures and specific time, the briquette with carbonization surface is turned into real carbonized briquettes.

At last of the process, we equipped charcoal crushing and repressing system to
process the carbonized briquette balls and plates
that the customer requires. Differ from the charcoal briquette making machine, the briquette pressing machine is one kind of mechanical pressing machinery, used for press the carbon powder into different shapes of carbonized briquette balls and plates.
Highlights in the Briquette Production Line
All of the machinery in this charcoal briquette production line are equipped strictly based on the actual condition and the requirements of the customers, easy to help the customer realize the maximum benefit value.
About the orders of the briquette production line, it can be adjust according to size and moisture content of the raw materials.
In the front technical part designed with the air circulation system of the carbonization production line, able to reduce the usage of combustible matter, storing the combustible air produced during the carbonization, to supply the carbonization furnace, realizing saving more energy.