ABC Machinery Supplies You with High Quality of Sawdust Briquette Machine
Sawdust briquette machine is one kind of biomass machines that ABC Machinery sales to all the world. It is mainly used to produce sawdust and other biomass materials into sawdust briquettes that can be burnt. Sawdust briquettes can be used in boiler, stove, fireplace and other places that need to burn sawdust briquettes. Compared with the traditional fuels, the sawdust briquettes produced by sawdust briquette machine has high calorific value, and they are easy to store and transport. It is clean to burn. What's more, the price of sawdust briquettes is reasonable , so people are likely to choose the biomass fuels. Then how is the sawdust briquette produced?
Production Process of Sawdust Briquette Machine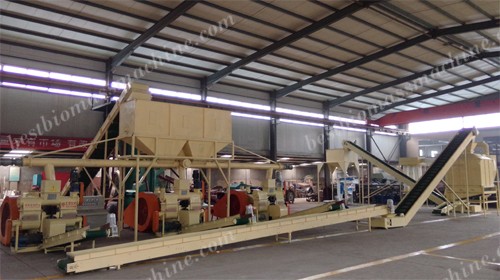 Crushing. Some raw materials size is not suitable for the sawdust briquette machine to produce briquettes, thus they need to be crushed by crusher or hammer mill.
Drying. Suitable moisture content of the raw materials can improve the the output. Higher or lower moisture content will affect the briquette quality and the briquette production even the machine running. If it is sawdust briquette production line, you need to use a drying machine; if it is sing sawdust briquette machine, you should use the natural method to dry the raw materials.
Briquetting. This is the most important step. It directly decides the product size, quality. You need to change the mold to change the briquette diameter. Temperature and pressure will affect the shaping effect. So when operating the sawdust briquette machine, you need to produce briquettes according to the instructions.
Cooling. That is to cool down the sawdust briquettes into room temperature in order to finalize the design.
Packing. If the sawdust briquette is used for sale, packing is the necessary step. The packed sawdust briquettes are easy to store and transport. Besides, the sawdust briquette can be protected well in case of being damp and broken.
Why We Purchase Sawdust Briquette Machine
As a human of the new century, not only should we lean to use the energy resource, but also learn to create resource. ABC Machinery can supply you with such a good chance. We can customize a suitable sawdust briquette machine to be convenient for your production. No experience? Don't worry, our company has the professional technicians supplying the whole set of service for you. From the plant design, capital budget to the equipment construction and production, we will try our best to meet the clients requirements.
We have the superior after sale service. No matter what kind of after sale problems, you can contact us at any time, we will give you the best solutions helping you to get the hugest profits.