Briquette Machine Design According to Customer's Requirement
Briquette machine design for biomass briquettes

Briquette machine design is used for making cylindrical, cuboid or hexagonal rod briquettes from biomass waste like wood, sawdust, grass, hay, and other crop waste, etc. Briquettes also can carbonized into charcoal for easy storage and transportation and high combustion rate as well.
Briquette machine design for coal briquettes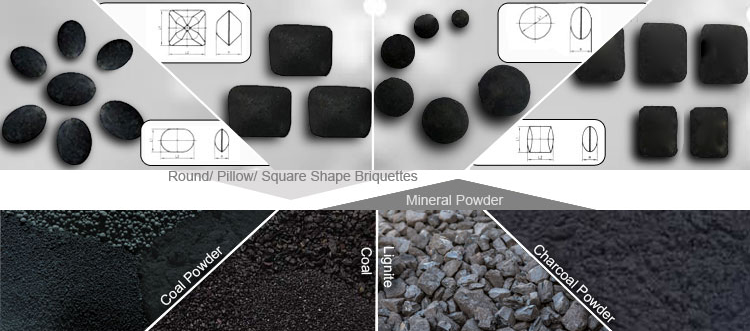 Briquette machine design can also be used to press into various shapes of coal briquette which can not only increase the combustion efficiency, but also reduce environmental pollution and improve economic efficiency. We design different briquetting machines according to the user's raw materials. The briquettes are widely used as fuel for heating industrial, producing electricity from steam in power plants, barbecue, and so on.
The process of making biomass briquettes is crushing, drying, briquetting, carbonizing (optional), cooling, packaging, etc.
The process of making coal briquettes is crushing, feeding, mixing, briquetting, drying, etc.. What need to add are as followed.
Crushing: Crushing is a normal equipment in briquette machine design. But if your materials that can be processed into pellets or briquettes directly. Then you don't need one of them. If not, they usually need to be ground into proper size by the grinder that they can be processed into briquetting machine.
Drying: Drying is an equipment that not only dry water when materials is too wet, but also can help increase the moisture content when the material is too dry. If the moisture content of your material is just suitable, then the drying machine is out of the table.
Briquetting: Briquetting machine is the main equipment of complete briquetting line. The raw materials are gathered and compressed into briquette in order to burn longer and make transportation of the goods more convenient.

According to the requirements of the shape of the product, we have designed a variety of different styles of models to choose. According to the diversity of power, briquette machine can be divided into screw briquetting and punching briquetting. What is more, there are much difference between coal briquetting machine and biomass briquette machine. You can choose the briquetting press depend on your need. If you would like to know more about our production please feel free to contact us.

The carbonization of biomass briquettes.
As for biomass briquettes, we can also help to carbonize if you want. The process are as follows if you are interested. Placed briquettes in the carbonization equipment in the absence of oxygen under the conditions of smoldering, or under the absence of oxygen conditions dry distillation, you can get the mechanism of carbon. Under different carbonation conditions, the types of carbonization are different. Divided into surface carbonization and deep carbonization.

Anyang GEMCO Energy Machinery Co. Ltd, the leader of briquette machine manufacturer in China. GEMCO is the densification division of ABC Machinery. We are constantly dedicated to the improvement and upgrading of technologies in China. Over the past ten years, we have been achieving progress with the world-class advanced technologies developed in sector and striving to lead China's briquetting industry. As shown in the name of GEMCO (Green Energy Machinery CO), we fully devote ourselves to developing green energy equipment and consistently integrating superior resources both at home and abroad while serving our customs with the best customized projects and plans.