Briquetting Press Machine Got You Extra Benefits
What is Briquetting Press Machine?
Briquetting press machine, also called biomass briquette machine, just as its name implies, is a machine used for pressing raw materials into briquettes, it produces the biomass raw materials like forestry and agro residues into briquette fuels with high combustion. According to the differences in working principle, we have three types biomass briquette machine for sale, which are screw briquette press, punching briquette machine and double heads multi-functional mechanical briquetting press.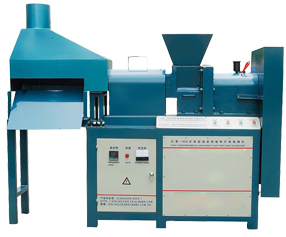 (
punching briquette machine, double heads multi-functional mechanical briquetting press, screw briquette press
)
Screw briquette press adopts the screw to push the raw materials into the forming sleeve to press them into briquette with carbonized appearance or shape of cylindrical or hollow center; punching briquetting press is designed with the principle of mechanical force on the raw materials to form; double heads multi-functional mechanical briquetting press is newly designed and developed with double forming sleeve, having larger production capacity.
Briquetting Press Machine Features
Raw materials for briquette pressing: agricultural wastes like rice husk, peanut shell, wheat stalk, sorghum stalk; forestry wastes like woos logs, wood chips and shavings, twigs, barks, sawdust; other biomass materials like herbivore animal manures etc.
The final pressed briquette specification: the screw type produces the briquette with the diameter of 40mm,50mm,60mm and 70mm; punching type produces pellet with Diameter 8mm-22mm and briquettes 30-70mm; and the double-head type produces 18-70mm briquette.

Applications fro final briquettes: home cooking and heating, public and enterprises heating, household fireplace, fuel factory, industrial boiler and stove, charcoal factory, even biomass power generation.
The briquetting press machine is not only used singly, but also used in the briquettes production line. Usually, the single biomass briquette machine is suitable for homemade briquette production, meanwhile, the plant is more suitable for the places needing large production capacity.
What Benefits Can You Get With Briquetting Press Machine?
Got Cheaper Fuels
The briquette produced by the briquetting press machine is featured with high density, high combustion efficiency, easily burning, no bad air produced to the air, friendly to the environment, is the best fuel used in daily life, which is the best substitution of tradition fossil fuels. What's more, the raw materials for making fuel briquettes are easily to find everywhere especially in the rural regions, thus cheaper and green fuel becomes truth.
Got More Income
If you have a certain amount of raw materials for briquette production, after you produced the fuel briquettes, you can sell them to your neighbors for getting more incomes. Or you can build a briquetting press machine plant to produce briquettes for sale as business.
Got High Profits
Under the calling of protecting environment and developing green and renewable energy, countries around all the world are trying their best to develop green energy technology. Equipped with international advanced briquetting technology and distinctive features of the final briquettes, biomass briquette machine have a bright future prospect, is the preferred choice for investment.
Whether you wan to choose to produce cheaper fuels, or more income, or high profits, all of our briquette machine can bring you big surprises which are beneficial to your whole life. Contact us for more details about the briquetting press machine.