Build Your Own Complete Briquetting Line for Fuel
What is complete briquetting line?
Complete briquetting line
is a complete production line, refers to a series of production processes from the pretreatment of raw materials, briquetting to packaging. It involves several equipments, crusher/hammer mill, dryer, briquetting machine, cooling machine, packager, etc. If necessary, it can equip with carbonization device like carbonization furnace to carbonize the wood briquettes into charcoal. Complete briquetting line through automated operation make biomass waste into treasure, which include groundnut shell, castor seed shells, saw dust, cotton stalks / chips, bamboo dust, coffee husk, tobacco waste, tea waste, paddy straw, wheat straw, sunflower stalk, jute waste, soya bean husk, sugarcane, barks wood, forestry waste, rice husks, wood chips etc..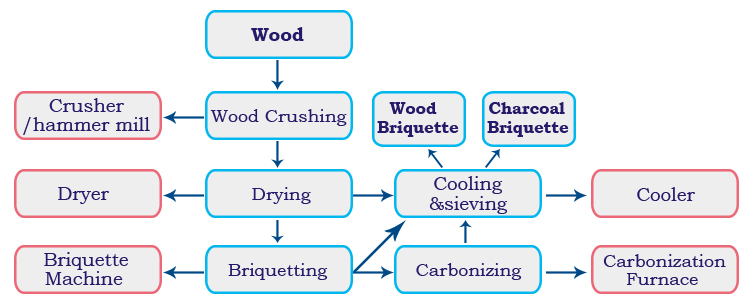 Biomass Briquetting Machine
Briquetting machine
is the main equipment of complete briquetting line. Biomass briquetting, mostly made of waste and other organic materials, are commonly used for electricity generation, heat, and cooking fuel. The raw materials are gathered and compressed into briquette in order to burn longer and make transportation of the goods more convenient. Compared to conventional fossil fuels, briquetting produce low net total greenhouse gas emissions because the materials used are already a part of the carbon cycle. According to the diversity of power, briquetting plant can be divided into screw complete briquetting line (200kg/h-1t/h) and punching complete briquetting line (500kg/h-5t/h). Need to add that the two machines can be paralleled with more than one machine to product, it can achieve no matter how much output you want. you can choose the briquetting press depend on your need.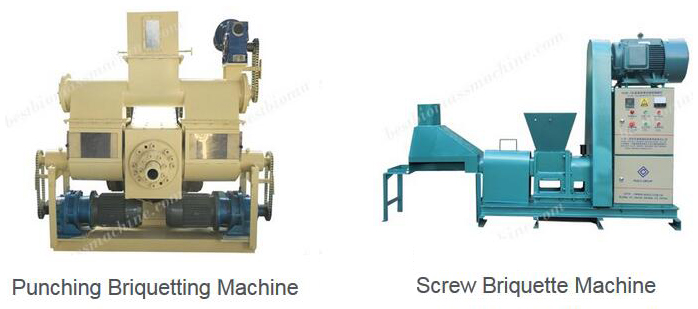 Hammer mill
In the complete briquetting line, hammer mill is a normal equipment and there are few materials that can be processed into pellets or briquettes directly. They usually need to be ground into proper size by the grinder that they can be processed into briquette machine.
Drying machine
The drying machine is usually used to dry up the wet materials in complete briquetting line. Drying machine is a vital device for briquette making. The materials drying degree directly affects the density, hardness, combustible rate and molding of the end products.
Cooler
The cooler is mainly used to cool complete briquetting line production, and make the high-temperature briquettes to the normal temperature in order to guarantee the whole production line to produce briquettes continuously, which is convenient to store and transport.
Carbonization furnace
If your biomass briquettes is made by screw briquetting machine. After drying, placed in the carbonization equipment in the absence of oxygen under the conditions of smoldering, or under the absence of oxygen conditions dry distillation, you can get the mechanism of carbon. Under different carbonation conditions, the types of carbonization are not the same. Divided into surface carbonization and deep carbonization, as well as carbonized steel of metallic luster. If you would like to know more about carbonization please contact us.
Packaging machine
The produced briquettes going to the market for sale need the proper packing. According to the different requirements of the market, and the different production abilities of the complete briquetting lines, choosing the packager with high cost performance is especially important.
Not all the above processing steps and machines have to be used in a complete briquetting line. We will set up the optimal equipments and design the most proper steps according to the situation of raw materials and briquette production line places. No matter how the configurations change, briquetting press machine is the essential and core equipment.