Efficient Pellet Mill Line Made in Italy
Detailed Description of Pellet Mill Line Made in Italy
This is a
small complete pellet mill line
customized for our Italian client with the
capacity in 1~2 TPH
which has been finished for construction. This pellet mill line is designed with fully automatic feedstock and drying system with circulating feeding method adopted in the drying furnace for reducing the manual work. The main processing includes log cutting, debarking, splitting, wood chipping, crushing, drying, pelleting, cooling, weighting and bag packing with a
BPM 420 ring die pellet mill
as the key equipment. The feedstock used in this pellet mill line is wood log of spruce wood, beech, pine wood and Douglas.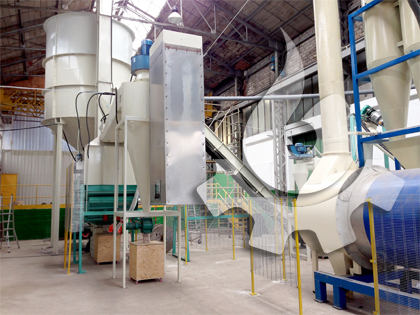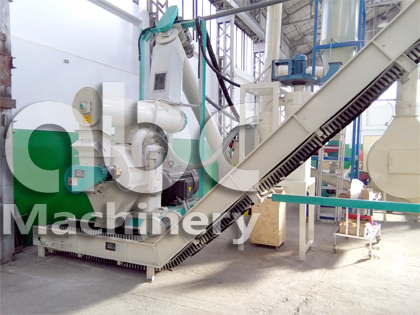 (
Pellet Mill Line Made in Italy
)
As we can see in the pelleting mill line above, different raw materials can be used, and various forms of wood can be used as well, such as, wood chips shavings, log, crop straws, husk, other kinds of agro and forestry residues. According to the type and form of raw material, the relative equipment is designed uniquely. For the key equipment, both of flat die and ring die pellet machines are suitable, the only difference is the production capacity. Additionally, if one pellet mill can not meet your requirement, you can connect two or over two pellet mills in your pellet production line.
More pellet line projects go here>>
Highlights of Pellet Mill Line Made in Italy
1.This pellet mill production line has two types, small scale for small scale pellet production and large scale pellet for industrial pellet production. The customers can choose the proper one according to the capacity requirement.
2.Pellet mill, as the key equipment, has various types and different power drives, meeting multi-requirement of the customers.
3.Pellet mill line, with high efficiency, capacity and low consumption, can continuously and steady runs for 24 hours.
4.Every composing machine is with strong durability and long life span, thus improving the security and reducing the maintenance cost.
5.The pellet mill production line can produce various raw material into pellet, such as, wood chips, grass, wood shavings, crop straws, husks, corncob and other residues in farm or wood factory etc.
6.Pellet line is flexible with the equipment is increased or decreased properly according to the type of raw materials and output capacity requirement.
7.It integrates the pretreatment, production and packing, producing high quality pellets, more suitable for requirement of scale pellet production like in the industrial boiler, pellet production factory, electricity generation, even the biomass fuel stove.
Italian Energy Market
Italy is always a typical large country relies on energy import, for a long time, due to the short of energy resource, the majority of petroleum and gas has been depended on import. Under the effect of the economic crisis in 2009, the gross energy supply in Italy was decreased. In terms of energy supply type, the traditional energy remains dominate in the total energy while the renewable energy represented 10.7%.
When time went to 2015, Italy has been the largest consumer country for biomass pellet in Europe, with the domestic consumption accounting for 96% of total consumption. From the expectation for the Italy heating market growth and the National Renewable Energy Action Plan, the quantity of wood pellet in Italy is forecasted to be 5.0 million metric tons (MMT) in 2020. In Italy, pellet is mainly used for heating in small-scale private residential and industry boiler thus pellet production is always scale production with pellet mill line.
If you have interest in pellet mill line made in Italy, please don't hesitate to contact us, we can design the best project plan for you.