Efficient Softwood Pellets Machine for Clean Fuel
Raw material for softwood pellets machine
As we know,
pellet machine is designed and manufactured for making biomass raw materials into pellets used as fuel
, the raw material can be agricultural waste, forestry residues and wood wastes from wood factory. And among them, wood is the most popular raw material, but do you know wood has a division of softwood and hardwood? And that is why we have this
softwood pellets machine
, because it is specially designed for making softwood pellets, and of course we have pellets machine for hardwood as well.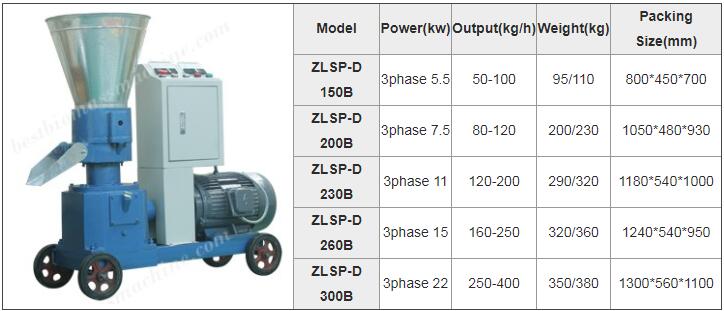 (
ABC Machinery D-type belong to
softwood pellets machine
>>
)
Then what kind of wood is softwood? Wood is made from tree, so we should know what is softwood tree firstly. Softwood tree mainly means the gymnosperm tree or coniferous tree which is always evergreen with cones and needles, such as, red pine, white pine, cypress, cedar, spruce, larch, hemlock, araucaria, European yew, basswood etc. The softwood tree is usually used for building ships, house, deck and stairwell, thus, softwood residues can be found in these wood factory easily like shavings, chips, sawdust and other shape of softwood.
Softwood pellets production processing
Due to the soft texture, relative low density and not apparent wood grain, softwood is easy to cut or chipped. So the production processing is slightly different from the general processing in some stages, but for the pelleting processing, softwood pellets machine is the most necessary equipment in all the production processing.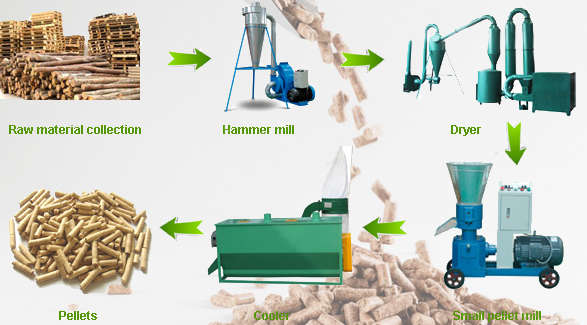 (
Softwood pellets production processing for farm or small-scale
Learn more about
small scale pellet machine line
>>
)
The raw material pre-treatment starts the softwood pellets production, and its quality decides the quality of softwood pellets. You should make sure the raw material is in the required moisture ranging from 12% to 18% and size less than the diameter of die hole, powder is the best. If the raw material is not in the required moisture and shape, don't worry, dryer will help to adjust the moisture and hammer mill can help you crush it into small size.
After that, it is time to make softwood pellets. When raw material is placed into the softwood pellets machine, the temperature will be raised to approximately 120℃ to 130℃, the raw material is softened and with the high pressure between the die and roller, the raw material is pressed into the die hole and formed into cylinders with uniform diameter, then the cutter in he discharging hole cuts them into uniform length.
The fresh finished softwood pellet is in high temperature, need to be cooled for better storage. You can put the softwood pellets in the cooling place to be cooled naturally fore self-use; but if you produce softwood pellets for commercial use, cooling machine is suggested to equip for reducing the production time.
The last step is packing the softwood pellet into bags. Packing into bags is easier to transport, store and manage.
Salient features of softwood pellets machine
1. The finished pellets made through softwood pellets machine has high density and combustion efficiency, producing no ashes and bad smoke when burning, friendly to the environment, can be the best substitution of fossil fuel.
2. Compression ratio. After amount of experiments, we have obtained the most proper compression ratio to produce the best quality softwood pellets.
3. Due to its high efficiency, reasonable structure and wide production capacity, softwood pellets machine is widely used in home use, commercial use, industrial use, even investing use.
4. Pellet machine for softwood is designed with four kinds of driven-power, including electricity motor, gasoline engine, diesel engine and PTO, meeting different requirements of actual situation in different regions with different life levels.
5. Electric control system, made in the standard of CE operation certification and ISO standard, guarantees the safety of softwood pellet production.
6. The key components, die and roller, adopt superior alloy steel, with the hardness reaching to 55-60 HRC, serving for longer time.