How to Build Your Own Sawdust Pellet Machine|Production Line
Sawdust is one of the main pellet raw materials. No matter what form it is, like wood log, wood blocks, wood chips, they will end up with sawdust and turned into pellets.
Presently, Europe is the country who consumes the most biomass pellets, while the tree type is mainly beech. Processing those trees into pellets needs a lot of processes. So, only a single
sawdust pellet machine
can not finish the process and the pellets manufacturer needs to build their own
sawdust pellet production line
.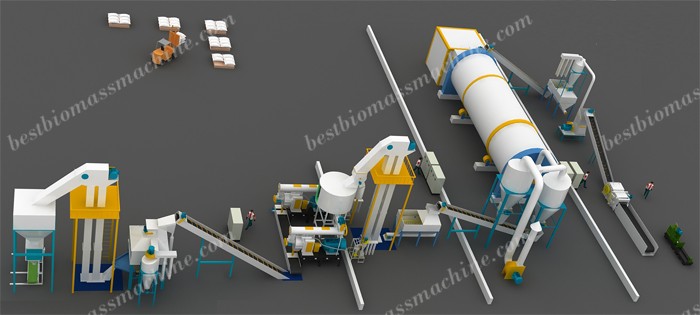 (
The large sawdust pellet machine in pellet production line. Designing for large sawdust pellet factory.
)
What dose the sawdust pellet mill manufacturer need to do?
How to build a suitable sawdust pellet production line? Many pellets producers don't understand the building process of pellet production line. Under that situation, the pellets producer should rely on the sawdust pellet mill manufacturer, so a reliable pellet machine manufacturer for the pellets producer is very important.
The sawdust pellet machine manufacturer should make a reasonable analysis and arrangement according to the actual situation for customers, that is to say we should learn to consider a matter standing in customer's point of view. For example, what the customers use pellets for? How is the pellets market in local? Will the customer make profits? What is the strength of customers? Those questions will help the sawdust pellet machine manufacturer to master some situations of customers in order that the sawdust pellet mill manufacturer could work out a suitable designing scheme for customers.
What dose the pellet producer need to do?
The pellets producer also needs make some preparations. For example, Where to build the pellets factory? How large is the factory? Is it convenient to use electricity? Is the raw material easy to get? Is there enough budget to supply the pellet production line building? If the budget is enough, whether it is deserve to buy more sawdust pellet machines for parallel production to improve the capacity? Such matters are needed to be considered by the pellets producer. The only goal is to gain more profits.
Conclusion
Thus, no matter the single sawdust pellet machine or the sawdust pellet production line, the previous building is very significant. The interaction of the pellet mill supplier and buyer should do well, then the pellet production line will be built quickly and best. ABC Machinery as a sawdust pellet machine manufacturer and supplier insists on the quality first,
CE certificate
and
ISO 9000 certificate
are the best explanation to our company. If you want build your own sawdust pellet machine production line, please contact us, we will give you the best answer.