How to Choose Pellet Mill
Nowadays, the biomass pellet energy has come into people's view gradually, and its requirement is also increasing day by day, so more and more biomass energy manufacturers join in the industry. But there are so many manufacturers who don't know how to choose suitable pellet mill to start their business, thus a reliable suggestion is important to lead the newcomers. Here this article is to give some suggestions according to customers' requirement on how to choose pellet mills.
The main factors to affect the pellet mill choosing are divided into two big aspects: factor of customers and factor of pellet mills.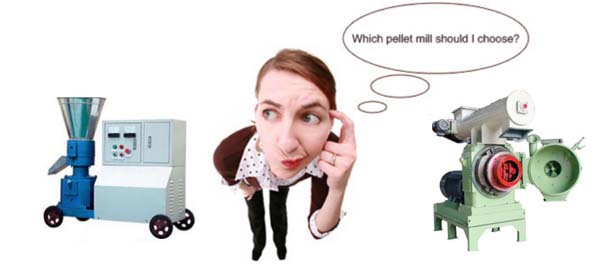 Factors of Customer
Choosing pellet mill size and factory scale according to customer's strength.
Customer's strength is the main factor in choosing pellet mills. It decides how big place will be chose (if the pellet mill is for household use, it won't need to choose place, the customer can choose a small pellet mill at home); what power it is(for flat die pellet mill: the power can be diesel, electricity, gasoline and PTO; for ring die pellet mill: the power is electricity ); how many labors the customer can employ.
Doing market research well. It is also important to make market research. Pellets market reflects the demand of the pellets and you should consider what scale of the pellet mill is suitable for the market which can help you to get the maximum profit. Besides, the market demand decides what capacity of the pellet mill you should choose.
Looking for customers. Customers are our ultimate aim, so finding some customers that can cooperate with us for a long time is a guarantee for our development.
Factors of Pellet Mill
Choosing pellet mill according to the raw materials. What materials are the most or easy to collect at the place where you decide to set up your factory? What materials can your pellet mill process? Those problems should be considered before you start your business.
The power, capacity of the pellet mill. The pellet machine that you choose should be convenient to use the power like electricity, diesel, gasoline, etc. You can choose proper types of pellet mill according to your situations. What's more, you should choose proper capacity of pellet mill to go on the pellet production, too large capacity will be over the market demand and the redundant pellets will bring loss to you. Too small capacity can not meet the requirement of the market, which can not bring you the maximum profit.
Pellet mill quality. The pellet mill materials, service life time, repairing and maintenance period affect your direct profit. So you must take care of those aspects.
After sale service. That is an invisible condition and people are easy to overlook it. Good after sale service quality and guarantee period are your free tools. You can use it to repair or maintenance your pellet mill for free which saves a lot of unnecessary costs for you.
There are other factors to affect the pellet mill choosing, if you want to know more information about pellet mill, please fill in the following form to consult our technician, we will reply to you in 24 hours.