How to Make Bio Fuel Briquettes with Biomass Briquetting Machine
From Wastes to Bio Fuel Briquettes
People live, people produce wastes in their life. Traditionally, waste is regarded as worthless, but after classifying waste, you will find that not all the waste is worthless. There exists some wastes like forestry residues and crop wastes. People in rural area have already burnt them in their heating in winter and daily cooking. However, due to the bad smoke produced in the direct burning, the environment is getting worse and worse resulting the bad air quality; also, the direct burning is not a full combustion, resulting low combustion efficiency and energy loss.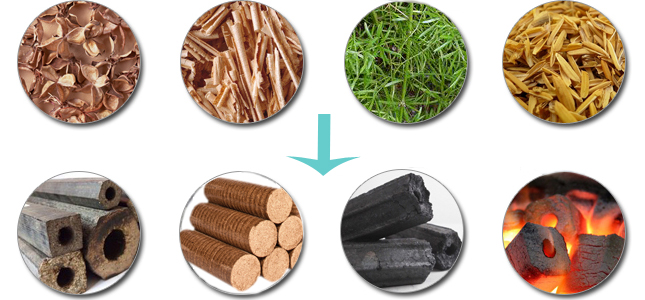 Under the supporting of advanced technology, renewable and clean energy production has been come true, among which bio fuel briquettes produced by biomass briquetting machine has got great concern of people. The raw materials for biomass briquetting machine mainly means the bio raw materials mentioned above, including forestry residues and crop wastes, additionally, animal wastes like cattle manure and horse manure can also be made into bio fuel briquettes with
biomass briquette machine
.
Making Bio Fuel Briquettes with Biomass Briquetting Machine
Biomass briquetting machine is specially designed to produce clean and green bio fuel briquettes, with this machine, you can easily produce bio fuel briquettes.
The first step of making bio fuel briquettes with biomass briquetting machine is preparing the raw materials well. The raw material should be in required moisture content ranging from 12% to 15% and required size which had better not larger than 3mm, and if your raw material is sawdust, there is no need to reduce the size. If your raw material is in large size and not proper moisture content, the drying machine and hammer mill are suggested to equipped for you.
After preparing the raw material, you can turn on the biomass briquetting press to produce bio fuel briquettes. We have three types of briquette machines provided for you, including screw type biomass briquetting machine, punching biomass briquetting press and multi-functional mechanical briquetting press, these three types are designed with different working principle. You can choose one of them. No matter which type you choose, you need to check all the rotary part is normal and other components are not damage before using the briquetting machine every time, if there is damage immediately replace the damaged component, avoiding affect the briquetting processing.
The finished bio fuel briquettes need to be cooled due to its high temperature after discharging out from the briquette machine, you can put them in a cooling place for cooling them naturally, and you can equip a cooling machine to cool them in a short time. Then the briquettes can be packed into bags for use, if you produce briquettes for commercial use, to improve efficiency, packing machine is suggested.
Biomass Briquetting Machine Superiority
Using biomass briquetting machine to produce bio fuel briquettes can reduce firewood buying cost, saving time and money and make contributions to protect our environment. If you make bio fuel briquettes by yourself, the raw material cost can be reduced as well.
The finished bio fuel briquettes with high density, uniform size and small volume, is convenient to transport, store and use.
Various of raw materials can be used for making bio briquettes with briquetting machine, including wood chips, shavings, bamboo dust, sawdust, cotton straw, coconut shell, palm fiber, pineapple shell, sunflower stalk, peanut shell, sugar cane trash, almond shell, waste papers, even cattle manure and horse manure etc.
Wide applications. The bio fuel briquettes can be used for home heating and cooking, enterprises and public heating, BBQ fuel, industrial boiler, electricity generation, biomass power generation, thus briquette machine can be widely used for home use, farm use, commercial use, industrial use and investing use.
Biomass briquetting machine is designed with international advanced manufacturing technology and equipped with high durable quality components can serve for a longer time.
Now did you know how to make bio fuel briquettes with briquetting machine? If you have any question on the processing, please contact us without worries.