How to Make Sawdust into Charcoal Briquettes
What is charcoal / wood charcoal?
Wood charcoa
l is the dark brown or black multi-hole solid fuel remained from the wood or wood raw material which has been through the incomplete combustion or air-isolated pyrolysis.

Natural wood charcoal burning in the low-oxygen atmosphere is helpful to remove any water and make the charcoal lighter, meanwhile remove the volatile gas of wood, to make sure the produced wood charcoal possesses higher combustion efficiency. As the development of modern industry, the demand for charcoal of people is increasing, Mechanism charcoal wood charcoal has been the mainstream wood charcoal product.
Mechanism charcoal
, also called
mechanism charcoal, wood briquette, manual charcoal, cleaning charcoal without smoke, is the charcoal stick made from sawdust through extrusion
.

Wide range of raw material can be made into charcoal briquettes, such as,
rice husk, groundnut shell, cotton shell, corn stick, corn stalk, sorghum straw, sawdust, wood chips, shavings, pine cone shell, coconut shell etc
, especially the sawdust, wood shavings, bamboo shavings, rice husk etc are the best.
Main uses of wood charcoal briquettes

With wide market, wood charcoal briquette can be used as barbecue charcoal in restaurant, the density of charcoal briquette is over three times than wood charcoal, burning without smoke. In industry, charcoal briquette is used for producing carbon disulfide and Iron& Steel smelting. Moreover, the charcoal briquette can be used for fuel supplement of boiler, with the close density with coal, and its heat value is approximately 5500~7000 kcal /kg but with less ash than coal apparently.
Making charcoal briquette from wood / sawdust
Proper raw materials, as the drawing shows, the raw material is wood log, weed tree or wood chips with large diameter, you need to crush them into small wood chips with the diameter of 1cm below, and keep the moisture content below 12%, to make sure higher production efficiency. (If you have no idea that your raw material is suitable for making mechanism charcoal or not, please contact us for free testing.)

Charcoal briquette machinery is first one of key equipments for producing charcoal briquettes. Pre-treated raw material is made into six prism type hollow wood stick or charcoal stick by charcoal briquette machinery. There is carbonization in the stick surface at this moment, which has been able to be made into product for sale, but it is not the ultimate charcoal briquette yet.
Carbonizing furnace is the second one of key production equipment. The finished wood stick produced from the charcoal briquette machinery is placed into the carbonizing furnace for carbonization.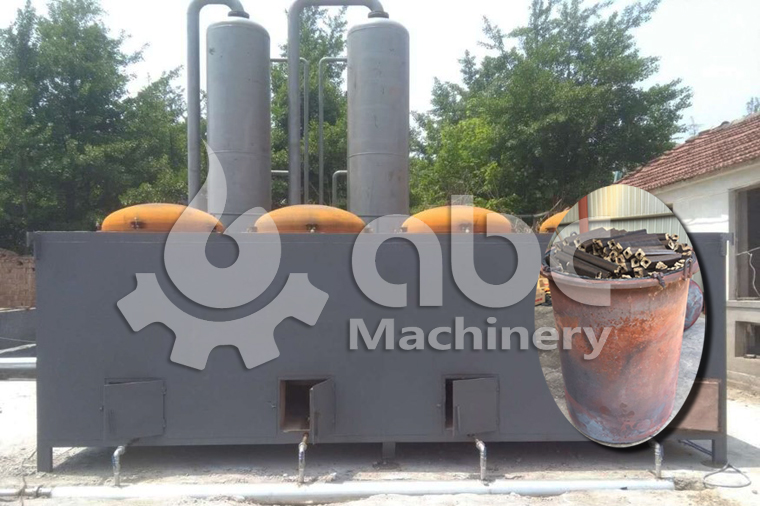 (
Carbonizing Furnace
)
What referred above is the necessary steps for making charcoal, each of them can not lack. The charcoal briquette production processing is different according to the different type of raw materials.
The common charcoal briquette production processing
Crushing machine: crushing raw materials into cuttings.
Drying machine: drying the crushed raw material, keeping the moisture content in 8% to 12%.
Charcoal briquette machinery: placing the treated raw material into the charcoal briquette machine, the raw material is pressed into shapes though the screw briquette machine.

Carbonizing furnace: placing wood briquettes into carbonizing furnace.

Finished wood charcoal: wood charcoal has high density and high heat value. Besides, just like natural charcoal, it is smoke free and odorless. Charcoal briquette is a green product because it is friendly to the environment.
The combination of these steps is a
charcoal briquette plant
. We can customize your charcoal briquette plant according to the actual situation of the customer.