How to Make bbq Charcoal Briquettes
bbq Charcoal Briquettes Popular Around the World
With the increasing development of economy level and demand for better life, barbecue, called bbq for short, as one new style of cooking, has been becoming more and more common around the people's daily life, which is widely held for daily party or meal. For holding bbq, one of the most important matter is choosing bbq fuel. Traditionally, people use small coal charcoal as fuel for grilling the food, which is easy to cause the bad smell in the finished food, and people do not like it.

As the technology developed fast, charcoal briquette produced by briquette machine has been the preferred bbq fuel around the world due to its high combustion ratio, easy to burn, no ashes produced during combustion etc. As early as 2009, the world charcoal briquette has been reach to 47 million ton, in which African countries produced charcoal briquettes taking up 63% then. Among the world charcoal briquettes production, Paraguay, Argentina, Indonesia, India and Somalia make the charcoal briquettes more than the other countries, taking up a half of world total production.
Making bbq Charcoal Briquettes with Screw Briquette Machine
Screw briquette machine
one kind of briquetting machine which adopts screw rob to push the raw materials into the briquetting chamber for pressing and forming. Due to the carbonized surface of the finished briquettes. After briquetting, the loose raw material will be turned into briquettes with high density, uniform length and diameter, which can be decided according your requirements.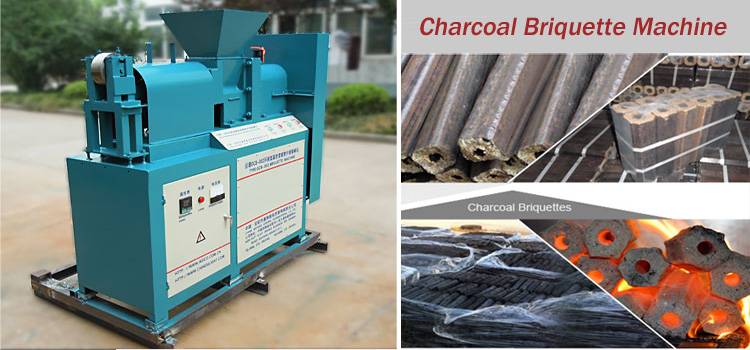 Screw Briquette Machine Technical Parameter
Model
GCBC- I
GCBC-II
GCBC-IIA
GCBA-I
GCBA-II
Output capacity (kg/h)
180-210
300-350
300-350
180-210
280~350
Motor Power (kw)
15
18.5
18.5
18.5
22
Electric heater (kw)
2.2*2kw
2.2*2kw
2.2*2kw
5kw
5kw
Size of briquettes
Φ=40mm, 50mm, 60mm, 70mm
Size of inside hole
Dia.16mm
Dia.16mm
Dia.16mm
Dia.16mm
Dia.18mm
Weight(kg)
700kg
1000kg
800kg
560kg
780kg
Packing Weight(kg)
800kg
1100kg
900kg
660kg
880kg
Overall dimension(mm)
1800*700*1840
2000*600*1700
2000*600*1700
1600*1000*1000
1500*1200*1600
How to Make High Quality bbq Charcoal Briquettes?
High quality charcoal briquette is featured with high density, smooth surface without cracks, easy burning, high combustion rate, no bad gas produced during combustion and no large ashes left after combustion etc. And all these features are decided by the production process.
The bbq charcoal briquette production process is composed of the following steps
Step 1 Raw Material Preparation
Firstly, you need to collect raw materials, which is the most important matter in making bbq charcoal briquettes. Plenty kinds of raw materials can be made into charcoal briquette, such as, forestry residues like wood logs, wood chips, sawdust, shavings, twigs, leaves etc; crop wastes like crop straws, rice husk, coconut shell, pineapple shell, peanut shell, sorghum slag etc.
Due to the strict requirements,
the raw material moisture content should be kept in 12%-15%, and the size should be kept below 3mm.
In this step, hammer mill, crushing machine, drying machine help you to process the raw materials into the required states.
Step 2 Briquetting Process
When the raw materials are ready, the screw briquette machine can start to process. You need to choose the most suitable type according to your requirement and actual usages.
The fresh finished charcoal briquette has high temperature, which need to be cooled, you can put them in a ventilated place, or equip a cooling machine for reducing the cooling time.
If you want the real charcoal briquette, it should be through carbonization. Put the finished briquettes into the carbonization furnace, and control the temperature and time well.
Making bbq charcoal briquette is not difficult, with mastering the steps, anyone can produce the high quality bbq charcoal briquettes. Contact us for more information please if you have questions.