Making Charcoal Briquettes by Charcoal Briquette Press
What is charcoal briquette press
Charcoal briquette press
can be also called
screw briquette press/screw briquetting machine
, it is mainly used to produce charcoal briquettes. The main part of charcoal briquette press is its mold. The raw materials are pressed into the mold forming briquettes. Charcoal briquetting press is one of the biomass machines of ABC Machinery. It has long service life time and durable parts. So the quality of charcoal briquette press is high.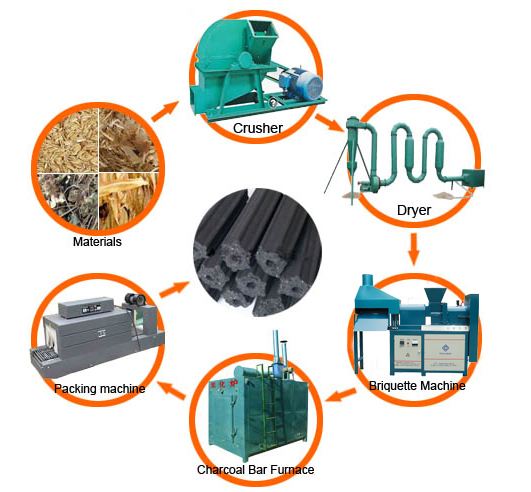 The charcoal making principle
The raw materials like wood, sawdust, straw, peanut shells, and other biomass materials should be processed into powder, then they are dried into certain moisture content. The raw materials are put into the
charcoal briquette press
. In the charcoal briquette making machine, there is proper temperature and press that function on the raw materials, the materials are made into briquettes with hole. The length of the briquette can be decided according to the actual situation. After the briquettes are made, they should be put into the kiln for a charring. Then the charcoal briquette are finished, you just need to cool the charcoal naturally.
Charcoal developing history
The charcoal has been made since pre-historic times, and it has the long time of history. The basic charcoal is made by burning the carbon-rich materials like hardwood, sometimes softwood. Those raw materials are lighted then put into the low-oxygen environment, so the materials won't burning thoroughly, and their moisture and volatile gases are took away. Then the charcoal will be formed. With the development of technology, people find a even effective way that can make full use of the energy in the raw materials. The charcoal briquetting press is the machine that can turn the raw materials into charcoal briquettes with more energy. The charcoal briquette press is developing rapidly.
Why Do We Use Charcoal Briquette Press?
Charcoal briquette machine consumes less energy and produces huge amount of charcoal briquettes.
Its large output can meet people's requirements. The charcoal briquetting press has high automation, so the labor cost is reduced. Besides, the end product of charcoal briquette machine is environmental, and they can be the substitute of the fossil fuels. The production cost is low, so most of the people can bear it. The raw materials of charcoal briquette press can collected from various channels, wood-working factory, furniture factory, forestry, etc.
If you want to start your own
charcoal briquette producing business
, you can come to ABC Machinery, for we have rich experiences on this kind of machine, and our technical team are researching and developing new type of briquette machine to meet different people's needs. The machine of ABC Machinery has high quality and adopts durable materials, so the life span is long. ABC Machinery has perfect after sale service, you won't worry about the installation and debugging problems. We will waiting for your cooperation with us!