Mobile Pellet mill Plant, The First Choice for You
Mobile pellet mill is a kind of small pellet mill machine, our website has introduced it yet, so if you want to know more information about it, you can click here to learn more information.
http://www.bestbiomassmachine.com/pellet-plant/flat-die-pellet-plant.html
. Normally speaking, when we talk about mobile pellet mill, we will come out of mobile small pellet plant. It is one type of pellet plant ABC Machinery launched. This mobile small pellet plant make up the shortage of single small pellet mill, and the mobile pellet plant can handle the raw materials making the raw materials be suitable for the pellet mill processing sizes. Besides, it increases the automation degree, fasts the processing speed, and reduces the operating requirement to the operators.
Mobile small pellet plant collects the equipments including
auxiliary machines
into one work table. The main devices concludes mobile pellet mill, hammer mill, vibrating sieve, cooling conveyor, etc.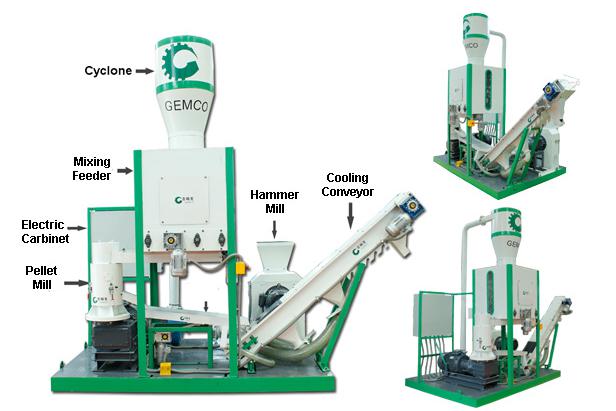 Mobile pellet mill: it can be ZLSP 300B or ZLSP 400B, those two kinds of mobile pellet mills have different outputs, so the yield of complete mobile small pellet plant is different.
Hammer mill: this machine makes up the shortage of the single pellet mill in the pellet production. It can process the raw materials (the length is not longer than 20mm) into small pieces (3-5mm) which is more suitable for the pellet mill.
Vibrating sieve: it can separate the molded pellets from the impurities and the broken pellets. What's more, it has the function of cooling pellets, making the pellets shape better.
Cooling conveyor: it is to transport the pellets and the length can be adjusted according to the production requirement, and it can also cool the pellets during the conveying process.
Other devices give play to the whole production. They connect and cooperate with each other fasting the pellet production and bringing more profits to the users.
Advantages of Mobile Pellet Mill Plant
It is convenient to move and produce pellets anywhere;
The automation degree is high, and it only needs 1-2 person to produce pellets which save the manpower resource, reduces the labor cost and improve the production efficiency;
The machine adopts special materials, which is wear-resisting and corrosion-resisting. That prolongs the life span of the machine and brings more profits to the users.
The mobile pellet mill plant saves energy and has high production, so it is the first choice of small scale pellet producers.
There are two types of small mobile pellet plants for you to choose, MPL300 or MPL400. The quality of both mobile pellet plants is perfect, if you want to produce pellets in a small scale, and you want to use a few people to produce pellets, you can choose the mobile small pellet mill, it brings you convenience and won't let you down.