Professional Guide to Use Wood Pellet Press
Wood Pellet Press Intro
Wood Pellet Press
is designed with advanced technology to make wood pellets with pressing the raw materials through pelleting die and pressing roller into cylinder with uniform diameter and length. Various of raw materials can be made into wood pellets, such as, wood chips, sawdust, shavings, bamboo shavings, bagasse, cotton stalk, coconut shell, peanut shell, rice husk, corn rob, sorghum shell, branch, twigs etc and other biomass raw materials.
Due to the difference of working principle,
wood pellet press is divided into two kinds
, respectively are
flat die wood pellet press
and
ring die wood pellet press
.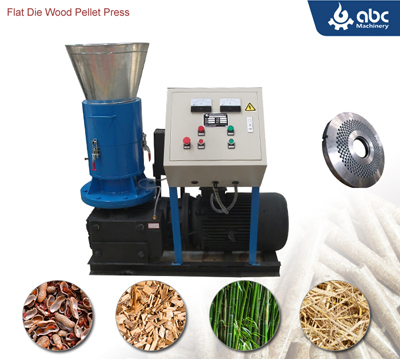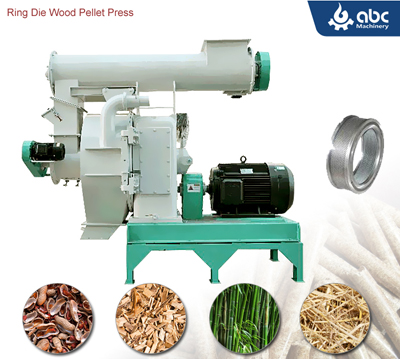 For the flat die wood pellet press, with the different rotating style, it has two types, including D-type based on die rotating and R-type based on roller rotating. each type has been equipped with four kinds of powers driven, which are gasoline engine, electric motor, diesel engine and PTO (tractor driven). The output production ranges from 50kg/h to 400kg/h, thus is suitable for home use, small wood pellet making workshop, small scale wood pellet production line and investing beginners.
For the ring die wood pellet press, two types are equipped as well, with horizontal ring die wood pellet mill and vertical wood pellet mill, the difference between them are the different feeding style. Horizontal ring die pellet mill adopts mechanically forced feed for feeding while the vertical type feeding depends on the self-weight of raw material vertically. The ring die pellet mill is equipped with different production capacity ranging from 200kg/h to 3t/h, suitable for commercial use, industrial use, large scale wood pellet making line.
Details About Machinery Operation
For the wood pellet production, pelleting system is the very important processing, while the wood pellet press plays the key role in the pelleting system. Its normal rotation and operation affects the quality of finial product directly. No matter what kind of wood pellet machine you use, you have to check the situation of all components carefully to make the production processing successful.
For the first time of using the wood pellet machine, the new die need to be ground with oil material before turning on the wood pellet press, the oil material is made of 10 kg of fine sand, 32 kg of biomass material (sawdust) and 8 kg of used oil, and mix them well, then feed the oil materials into the wood pellet mill for 40-60 minutes in circles.
Maintenance
The wood pellet press need careful maintenance from the first use. You should check the die and roller carefully, making sure there is no abnormal matter and nothing blocks the die and the rotation of roller, if you find the die is abraded, you can change another side to use, but remember that only individual die can be used like this. For other components with bad abrasion, you need to replace it with new one immediately to make the production proceed normally.
Besides, you also should lubricate the gear box and other parts which need required lubrication oil when using for the first time. The lithium base grease is for pressing roller and main shaft need, and the hypoid gear oil is for the gear box. The lubrication oil should be added with proper volume according to the requirement for different parts. And you should check all the rotation parts are with enough lubrication oil before turning on the wood pellet press every time.
About Trouble Shooting
Common trouble phenomenon
Causes
Trouble shooting
Too low production
1. First use causes bad finish degree of die holes
2. Raw material moisture is too high or too low
3. Too large gap between the die and roller
4. Bad abrasion of die and roller
1. Grind and lubricate with oil material
2. Adjust the raw material moisture content
3. Adjust the gap of die and roller
4. Replacing die or roller
Too much powder mixed in the final wood pellet
1. Too low moisture content of raw material
2. Over abrasion of die, pressure ratio is small
1. Promote the moisture content
2. Replacing with new die
Coarse surface of pellet
1. Too high material moisture content
2. The die is used for the first time
1. Lower the raw material moisture content
2. Use the oil material to grind in circles
Abnormal noise
1. Hard matters mixed in the material
2. Damage of the bearing
3. Loose of components
4. Impurity in the gear lubrication oil causes the gear damage
1. Stop the machine to clear the matters
2. Replacing the bearing
3. Fasten the components
4. Check the gear or contact to the manufacturer
Sudden stop
1. Overloading (even the fuse is burnt)
2. Abnormal matters in the pelleting chamber
3. Too low voltage or low actual power
1. Enlarge the gap of die and roller properly (replace the fuse)
2. Stop the machine to clear the abnormal
3. Replace the power or motor