Use Briquette Making Machine to Make Biomass Briquette Fuels
Biomass fuels as a kind of new type of energy is gradually going into people's view. Its advantages decides its position in the energy field in the future. So developing new type of energy industry is a good choice. Briquette making machine is the main equipment to produce briquettes, and many people don't know well about it, now let's learn about it together.
Under high temperature and high pressure, briquette making machine makes the raw materials like wood, rice husk, peanut shells, crop straws, etc into briquettes with carbon (this process doesn't need any binder). At present, our company is mainly engaged in two kinds of briquette making machine, screw briquette making machine and punching briquette making machine. The details of those two machines are presented in the below content.
Screw briquette making machine
: it is also called charcoal briquette making machine, for it can turn the biomass raw materials into charcoal briquettes making the burning even through the combustible efficiency even higher. The charcoal briquettes are hollow with hexagon or quadrangular shape, and the briquette can contact with the air efficiently, the burning effect will be better.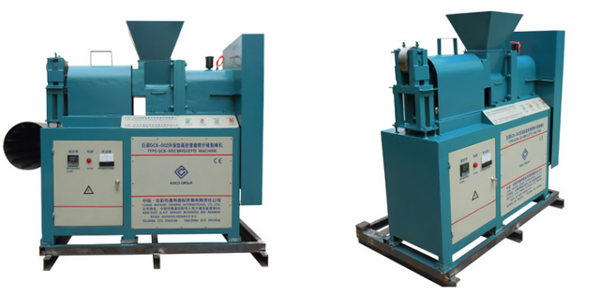 Technological Parameter
| Model | Capacity(kg/h) | Briquette diameter(mm) | Power (kw) | Briquette inside hole diameter (mm) | Weight (kg) | Dimension (mm) |
| --- | --- | --- | --- | --- | --- | --- |
| GCBC-I | 180-210 | 40,50,60,70 | 15 | 16 | 700 | 2700*600*1600 |
| GCBC-IIA | 300-500 | 40,50,60,70 | 18.5 | 16 | 800 | 2000*600*1700 |
| GCBC-II | 300-350 | 40,50,60,70 | 22 | 18/16 | 780 | 1500*1200*1600 |
Punching briquette making machine
: this machine produces briquettes with solid shape, and the briquettes have high density, the burning time is long. The machine can not only produce briquettes but also produce pellets. If you want to change the product type, you just only need to exchange the mode of punching briquette making machine. So it is convenient for you.

Technological Parameter
| Model | Capacity (t/h) | Power (kw) | Weight (kg) | Dimension (m) |
| --- | --- | --- | --- | --- |
| GC-MBP-1000 | 0.5-0.8 | 45 | 7000 | 3.4*2*1.8 |

The die hole size is from 8mm-70mm, and different die has different capacity, and the die hole numbers are different too. You can produce pellets or briquettes according to your actual need.
No matter what kind of briquette making machine, they have their own advantages and the products briquette is the new type of energy. The energy can ease the situation that the fossil fuel energy is in the shortage status. Besides, the biomass briquettes are positive to the environment protection. If you still don't know what kind of briquette is suitable for you, don't worry, we will choose the best machine for you and help you to use it for free until you master it totally. Please contact us quickly!