Wood Briquette Machine for Biomass Briquette Fuels
Wood briquette machine is also named wood briquette press, and it is a kind of biomass machinery production, which is mainly used to produce biomass fuels. Under the situation of resource shortage, wood briquette machine is the new star of energy field. It can process many kinds of wood materials, such as wood logs, branches, wood waste from furniture factory, forestry wastes, etc.
Wood Briquette Machine Classification
Wood briquette machine includes many types, there are mainly two types,
punching briquette machine
and
screw briquette machine
. The former is to process the wood materials into biomass briquettes, while the screw briquette machine is to process the wood materials into charcoal briquettes. Today, we are going to talk about punching briquette machine.
Punching wood briquette machine is one of the main products of ABC Machinery, it can not only produce briquette by single machine
,
but also in the whole briquette production plant(including crushing machine, drying machine, punching briquette machine, packing machine).

Complete wood briquette machine process
Wood briquette machine working principle
Wood briquette machine uses high pressure and high temperature to press the raw materials into solid. The raw materials get into the punching briquette machine from the feeding port, then the materials are pressed into the mould holes. After they are pressed into briquettes, the briquettes will be let out from the discharging port. You just need to place the briquettes and cool them naturally.
Wood Briquette Machinery Advantages
1. Punching briquette machine is easy to maintain;
2. The moulds of punching briquette machine has long life span and the it can be more than 400 hours;
3. The punching briquette machine can work continuously;
4. It has large production capacity and low energy consumption;
5. The punching briquette machine can process many kinds of pellets and briquettes with different diameters.

Wood Briquette Advantages
1. Wood briquettes are easy to be stored and transported;
2. The wood briquette has low moisture content, so the burning efficiency is high;
3. After the burning, there will be less ash to be produced, and there is less harmful gas to be released into the air, which is environmental;
4. Wood briquettes can be used by single machine, but also in the briquette production line;
5. The ash produced by burning the wood briquettes can be used as the perfect fertilizer.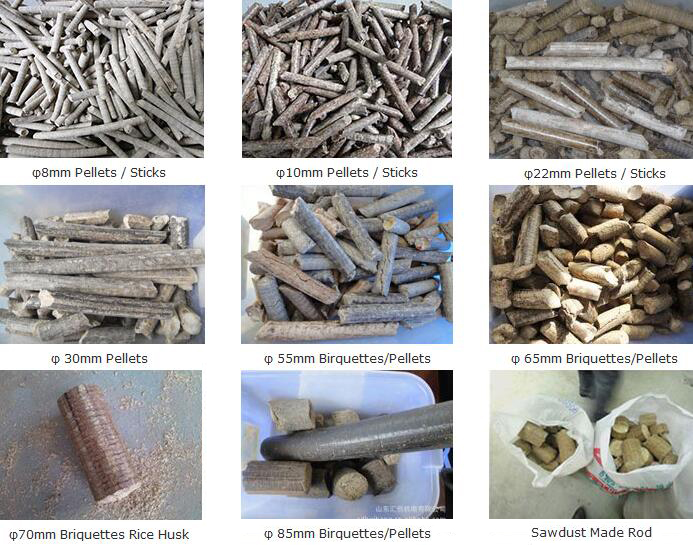 ABC Machinery is a company owning more than 10 years of wood briquette machine manufacturing and selling experiences. We has sold our products to over 50 countries of the world, and we got great feedback from them. No matter what type of briquette, the main parts adopt advanced materials, so you won't need to worry about the machine quality. We supply the one-stop service, which gets rid of lots of troubles for the customers. Our after sale service is perfect, if you have any problems, you can contact us at any time, we will reply you at 24 hours, waiting for your visiting and cooperation.