Sawdust Charcoal Briquette Machine Bringing High Profit
Making Full Uses of Sawdust
Sawdust is the by-product of during the wood processing, like saw powder and shaving powder, mainly used for fuel, light bone filler, fiberboard etc, or as the raw material of paper making. With the increasingly worse of environment pollution, making sawdust into green charcoal briquette has been the preferred choice for plenty of people.
Sawdust charcoal briquette refers to the lumber produced after processing undertakes dry, pressurization is formed and cool processing hind make, used as boiler fuel, can replace the environmental protection commercial fuel product of chemical fuel such as light oil.
Additionally, compared with chemical fuel, sawdust charcoal briquette fuel is a new renewable energy with excellent economic performance, widely used in North America, Europe and other developed countries, which can be said to be one of the future alternative energy sources.
Efficient Sawdust Charcoal Briquette Machine for You
The equipment for processing sawdust into renewable sawdust briquette charcoal is called as
sawdust charcoal briquette machine
, we manufacture two types according to the differences in working principle, including screw sawdust charcoal briquette machine and punching sawdust briquetting machine.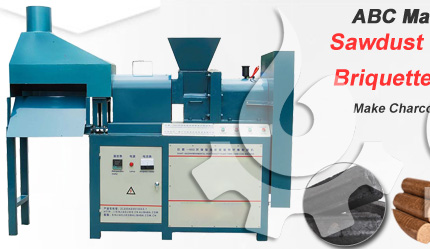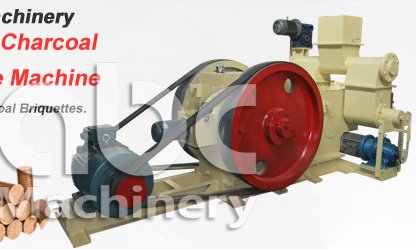 Screw sawdust charcoal briquette machine is called charcoal briquette machine as well, adopting the propeller pushing the loose sawdust forward into the forming sleeve. The final briquette is shaped with hollow cylinders or hexagonal shape with the diameter ranging from 40mm to 70mm.
Different from screw type, punching sawdust briquetting machine adopts the mechanical stamping, giving great pressure to the loose sawdust and helping them to form into high density solid cylindrical shape. With changing the extrusion mold, this type briquette machine can produce the sawdust into both pellets and briquettes, suitable for more occasion.
Making Higher Profit from Sawdust Charcoal Briquette Machine
Speaking of making profit from sawdust charcoal briquette machine, the investors care the returns most, which is the base of investment. Everything is empty talk if there is no returns.
So how much returns can get when producing one ton of charcoal briquette?
The first thing you should consider is the cost of raw materials before using the sawdust charcoal briquette machine to making charcoal briquettes. Generally, 2.5 tons of raw materials mixed with sawdust and rice husk in the moisture of 30% can be made into 1 ton of charcoal after drying to moisture of 5%-12%. And the raw materials cost different in different places, there exists some places where the raw materials cost free almost; while in other places, the raw materials cost very high. Thus, the raw material cost is the key of making sawdust charcoal briquettes.
Commonly, sawdust and rice husk cost 80-300 Yuan per ton. Putting the sawdust and rice husk as an example, let's calculate the profit when producing one ton of charcoal briquettes (one ton of mechanical charcoal needs 2.5 tons of raw materials):
| Cost factors | Unit price (Yuan) | Unit | Total price (Yuan) |
| --- | --- | --- | --- |
| Raw materials (sawdust, rice husk) | 300 | 2.5 tons | 750 |
| Electricity consumption | 1 | 190 degree | 190 |
| Operator | 80 | 3 person | 240 |
| Total | | | 1180 |
At present, one ton of charcoal briquette costs 2500Yuan per ton in the market, after we cut off the transportation cost, the pure profit nearly reaches to 900 Yuan. Therefore, one ton of charcoal briquette returns 900 Yuan profit. When you build a small sawdust charcoal briquette machine plant with the production capacity of 300 ton per year, you just need to invest 30 -50 thousand Yuan, the pure profit of one year can reach to 200-400 Yuan.
In a word, about that if the profit is considerable or not, you can also make a cost list according to the local actual situation and then decide to invest it when you see profits.