Making Sawdust into Pellet Briquettes with Stamping Briquette Press Machine
The stamping briquette press machine
produced by our factory is also called as
functional biomass briquette pressing machine
or
punching briquetting machine
. It is designed to produce the biomass materials like wood, sawdust, chips, branches, straws and fruit shells into pellets or briquette whose diameter in 8-70mm.

The final fuel is produced with solid briquette and moderate density (0.8-1.2), thus easy to store and transport, also help to promote internal anaerobic reaction of fuel rod, increasing the material heat value to 3500-5000 Kcal.
Punching Briquette Press Machine Shipping Site
Why Stamping Briquette Press Machine?
The punching briquette press machine has a high adaptation of raw materials. There exists some raw materials which is not easy to process by pellet machine, but the briquette pressing machine can do that. Such as, kinds of agro materials like straws, cotton stalk, corn straws, millet straw, rice husk, peanut shells etc; wood fiber like bagasse, brewed pomace, pulp puree, pasture, bark, bamboo shavings, sawdust, leather scraps, olive residue, furfural residue etc.
The final product has a large selecting range. This biomass briquette press machine can be used for producing multiple briquettes with different specification, to realize that pellet and briquette can be produced by this machine. Both of pellet in 8mm diameter and 70mm diameter briquette are easily produced by this stamping briquette machine. What you need to do is only to change the necessary pelleting die.
The main motor is designed according to the principle of automobile engine. With the reciprocating stamping water cooling cycle covering the machine, it is able to work for 24 hours 7 days.
Low consumption, high capacity, low trouble ratio, simple operation.
Providing the environmental parameter value for the area where has high requirement for environmental protection, to make sure the normal equipment operation.
Environmental Protection Parameter
| Item | Parameter |
| --- | --- |
| Briquette density | 1.1-1.3g/cm3 |
| Combustion value | 3700-5000Kcal |
| Sulfur dioxide emissions | 0.38%, lower than the national standard; |
| Carbon dioxide emissions | 0.22%, further lower than the national standard. |
| Ash content | 3.6%, can be recycled to do agricultural potash fertilizer, to achieve the green recycling of government requirements. |
Final product is widely used as environmentally friendly fuel, fireplace fuel, boiler fuel, heating, biomass power plant fuel etc.
Stamping Briquette Pressing Machine Technical Parameter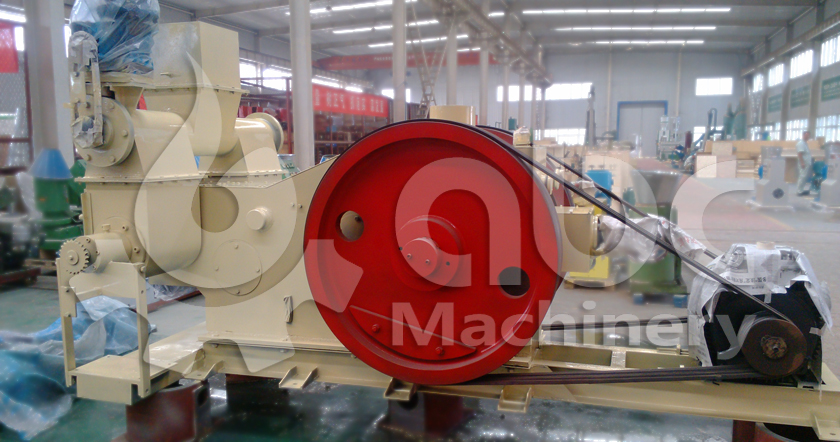 Item
Parameter
Main motor power
45kw
total power
61.1kw
briquetting hole parameter
(die specification)
8mm、10mm、22mm、65mm、70mm、75mm (the pelleting die can be chosen according to the demand)
Actual electricity consumption
(per ton)
about 40 degrees (producing pellet costs less than 37 degrees, producing briquette costs less than 32 degrees)
Weight
7000kg
Specification(mm)
4000*3800*2500
Briquetting ratio
≥90%
Moisture content of final product
10%-15%
Briquette size
Length ≥15mm
Diameter ranging 8mm - 75mm
Production efficiency
10-22mm: 1.0-1.2t/h;
65-75mm:1.2-1.5t/h
Product density
1.1-1.3g/cm3
Cooling tank capacity
≥2 m3